Euro League:
Gudaitis never attended an American College but he was still able to generate a substantial buzz through his play overseas. He originates from Lithuania and typically played PF or C due to his 6'10 muscular frame. During the premature phases of Gudaitis' career he occupied himself in tourneys where he got as high as a bronze medal with his team. Based on his impressive performance he was honored with the title "most promising young player".
Rambles of his potential spread like wildfire and soon enough he had himself a contract for the famous Euroleague. Over the course of  two years with his squad, he managed to piece together a decent stat line of 6 PPG, 3.6 RPG and nearly a block while shooting an extremely efficient 52.4% from the field. Two years overseas was enough for Gudaitis and he declared for the draft. His reputation was not as explosive in American compared to Lithuania and as a result he fell to the 76ers with the 47th overall pick.
Strengths and Weakness:
Gudaitis did not contribute to any Summer League teams because it is speculated that the 76ers are going to keep the young prospect overseas for a couple years to further develop.
Taking a closer look at what motivated the 76ers to use a pick on Gudaitis, it becomes clear this was a low risk, high reward type of bargain. He offers them a prospect that has a fairly developed game. He has unique footwork that can heavily help him in the post and he has the strength to throw down over some of the top defenders in the world. He also offers a fair level of defensive capabilities through his ability to send opposing shots into the stands.
A couple things that could use immediate improvement include his rebounding and shooting. He is soft when going up for boards and often loses them to more hungry players who throw themselves at the rim. He has to learn to be more menacing in the boards or he will continue to give up offensive rebounds at an unhealthy clip. He also isn't the most polished shooter which may become a problem in a league that is rapidly shifting to a fast paced shooters game. Overall, Gudaitis has shown flashes of being a capable big man and he has drawn comparisons to Donatas Motiejunas, just without the elegant shooting touch.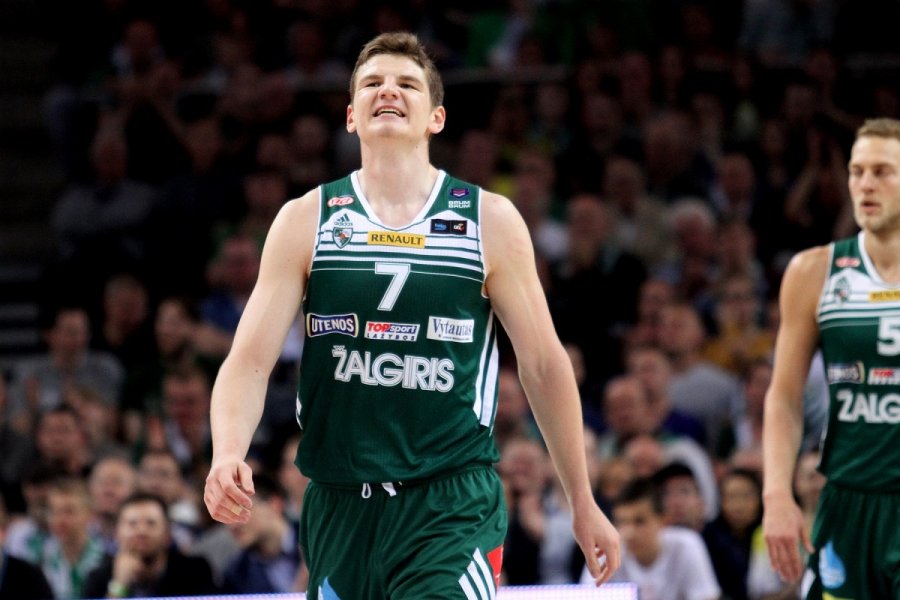 Graphic via delfi
Fit on the Philadelphia 76ers
The 76ers aren't offering much in terms of anything next year to the rookie. Chances are they keep him overseas to work out his flaws before they even consider bringing him over. That also just adds to the list of oversea players they have, including highly regarded prospect Dario Saric. With Gudaitis being a front court player that only perpetuates the logjam they have at the front court due to an abundance of players they've drafted at those positions.
If Gudaitis ever comes over he will need to fight tooth and nail for time against the likes of Okafor, Noel, Saric, Embiid and whoever else they may add in free agency. That is not an easy task and right now Gudaitis' future seems extremely bleak on this team.
In a worst case scenario he might never see the NBA hardwood and be kept overseas with a false hope of a career here. It doesn't seem like the sixers were an ideal team for Gudaitis, they would have been much better off drafting a guard who could immediately contribute to their rebuilding process.
Graphic via youtube