After four tremendous years and a storied tale at Wisconsin, Frank Kaminsky was poised to take the next step in his career by declaring for the NBA Draft. The once unheralded recruit was high on the wish list of a number of teams, including the Boston Celtics who in an attempt to land him, offered not four, not five, but six draft picks to his eventual team in Charlotte Hornets who took him at No. 9 slot.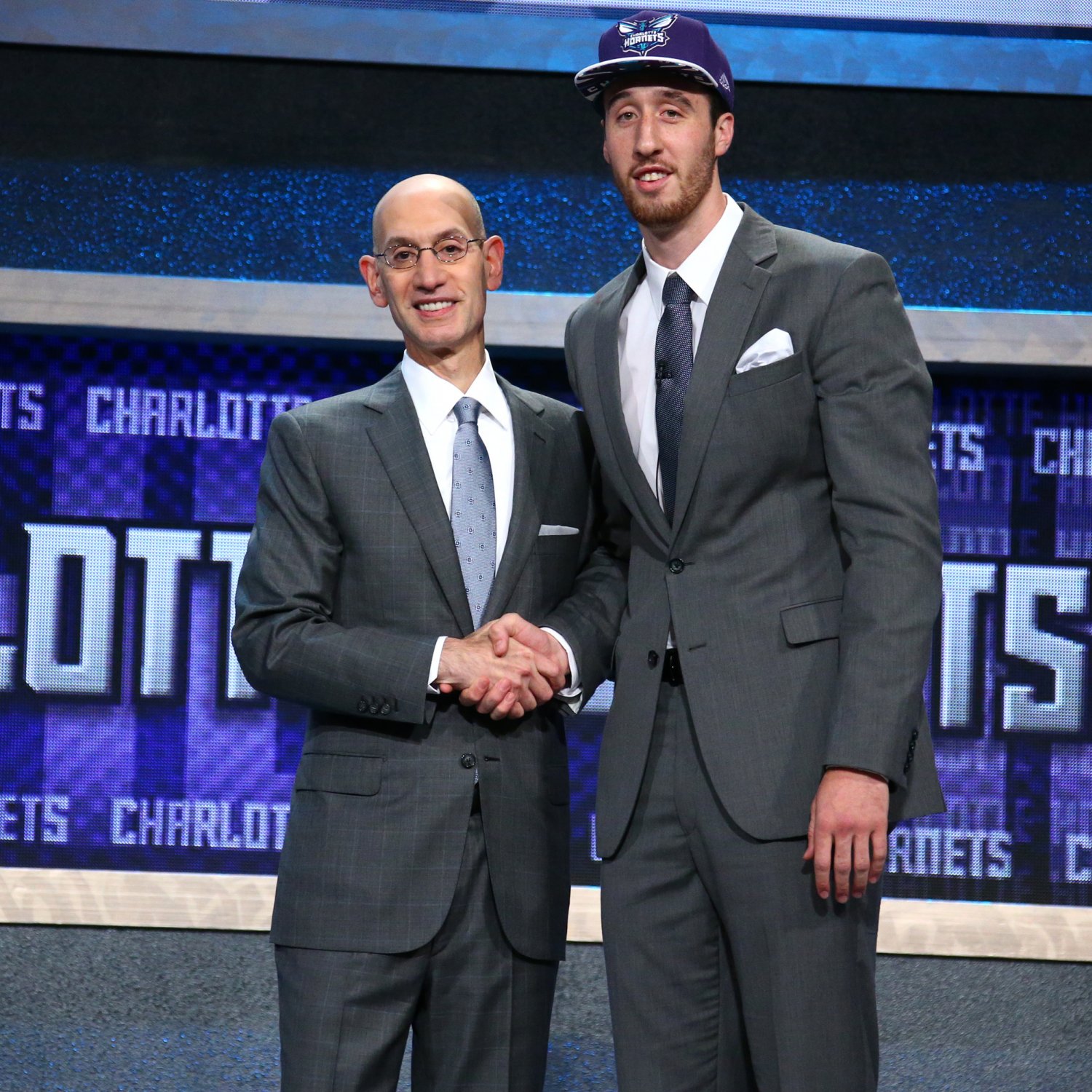 Graphic via bleacher report
Indeed, his path the college stardom was unlikely at one point, as the three-star recruit out of Lisle, Illinois averaged just a shade over 10 minutes per game in his first two years in Madison. It wasn't until his breakout junior year in 2013-2014 that his role solidified and his importance understood. By the end of his senior season, he saw averages of 18.8 points, 8.2 rebounds, 2.6 assists and 1.5 blocks in 33.6 minutes. During his last two years, Kaminsky was an unrelenting force in leading his Badgers to an NCAA Final Four appearance in 2013-2014 and followed that up the next year with an electrifying run that was ended in the title game to Jahlil Okafor and the Duke Blue Devils.
Since his freshman year as an unknown recruit, Frank the Tank has continually expanded the versatility in his game to the point where it is impossible for scouts to ignore. At a large -1 and , he's able to effectively score in the post as he has great fundamental footwork to compliment his array of savvy post moves. His inside-outside game relies on his soft 3-point stroke to keep defenses honest and he's able to put the ball on the floor and finish with both hands at the hoop when needed. He doesn't shy away from contact as he shot 78% from the charity stripe in his final year at Wisconsin and was an exceptionally good passer for a big man. Kaminsky's rebounding rate is solid, even for his position. His offensive game is perfectly suited to fit a team that needs a modern day stretch four, which is exactly what MJ's hornets are. Legitimate 7-footers that can help facilitate an efficient offense are hard to come by, so it's easy to see why Charlotte didn't hesitate at the opportunity to draft the reigning Naismith College Player of the Year.
Despite his offensive potential, not many teams have turned a blind eye to the glaring holes that are his defensive abilities. The most obvious is his non-existent athleticism and lateral quickness, which almost guarantees that at least early on, Kaminsky will be exploited on that end of the court. When the season begins, he won't have the strength to deal with the physicality of the NBA down low on a nightly basis. On offense, though he was as polished as they come in college hoops, critics have argued that under Bo Ryan's system, Kaminsky looked much better than he actually was.
Some scouts have compared him to Brad Miller and believe he will be a very solid starter for more than a decade in the league. On the other side of the spectrum, there were concerns about his game translating the to pro level and if he's even good enough to crack a rotation on an NBA team. Frank has had to overcome his doubters in the past and it remains to be seen whether or not he was just a product of Wisconsin's offensive system or if he's able to carve out a niche in the NBA.
Graphic via hngn