Kelly Oubre Jr. spent one year at Kansas University before entering the NBA draft. He entered Kansas and immediately became a starter as a freshman, although he played limited minutes as more of a role player. Oubre is an intriguing prospect and decided to put his name into the draft because he thought he had a shot of being a lottery pick. During his sole season at Kansas he earned new comer of the week honors twice and averaged 9 points and 5 rebounds per game in about 20 minutes per game. He had moments where he showed his tremendous upside but also struggled at times like most freshman do.
Oubre fell just beyond the lottery when he was selected 15th overall by the Atlanta Hawks, who subsequently traded his rights to the Washington Wizards where he will play his rookie season. Oubre is a 6'7" small forward who has good upside but is also still very raw. He struggles to find his consistency but at 19 years old that is not a big surpise. His play at Kansas was pretty good for a freshman but nothing spectacular. His first round draft placement is due to his perceived talent and upside. At 6'7" he has good size for a wing, but does need to put on some muscle. He does not have an NBA body quite yet and could use some extra weight. Those are things that can develop over time. What he does have is good size and length and the ability to score in bunches. His summer league performance was a perfect example of where he is as a player.
Overall, Oubre impressed people at the summer league, but he still has plenty of work to do. He capped off the summer league with an impressive 30 point explosion in which he nailed 5 three pointers. It was easily his best game of the summer and displayed the potential that he does entail. The rest of the summer league however showed how much room he has left to grow. Oubre did score in double digits every game of the summer but he struggled with his shot overall. The five three pointers in the final game seemed to be an anomaly as he was just 3-25 in the previous games. He also was very up and down from the free throw line.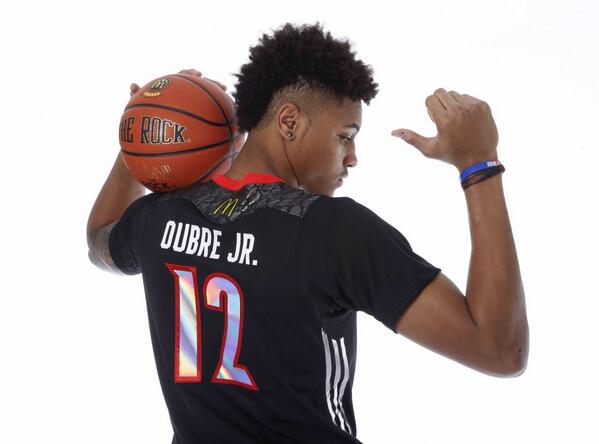 Graphic via twitter
He showed he has the ability to get to the free throw line at a good rate and the ability to score at times, but his shot needs more work. He is a developmental player and will have trouble cracking the rotation in Washington. The Wizards are already a playoff team looking to make the next step. They did lose Paul Pierce but have a few veteran players at the wing position that they will play in front of Oubre. It is hard to see him earning very many minutes his rookie season but it is probably best for him to watch and keep working on his game. If he develops over time the Wizards could wind up with a good wing on their hands. At 15 he is a relatively low risk high reward type player that could pay off in the long run.
Graphic via tumblr