The San Antonio Spurs are known for being great evaluators of European talent. Their roster is consistently made up of many foreign players. They added to that pool in the first round of this year's draft when they selected the Serbian center Nikola Milutinov. Milutinov has been playing professional basketball for a handful of years already and he is just 20 years old. He is a legit tall and has a lot of promise as a young basketball player. Last year in Europe he averaged about 10 points and 8 rebounds per game. He has played on the Serbian national team and held his own from a young age.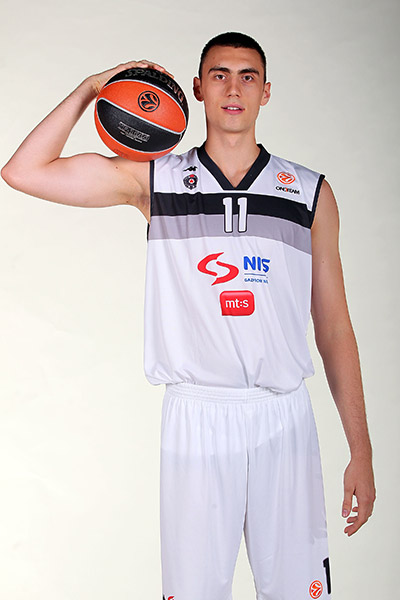 Graphic via espn
The Spurs had to be very high on Nikola if they were willing to take him the first round despite not planning on bringing him over the United States anytime soon. Shortly after being drafted by the Spurs, Milutinov signed a three year deal to play in Greece. Being so young, the Spurs have no problem waiting a few years to see how he develops. NBA teams are always intrigued by 7 footers, especially ones that show the potential that Milutinov does. Most guys this tall at that early of an age are awkward and clumsy, but Nikola is agile for a big man and can move around pretty well. He is an effective pick and roll player because of this. It helps that he is skinny for a man of his height, but he could also stand to add muscle before attempting to bang with the grown men in the NBA. He will certainly fill out over the next three years.
At this point in his development he knows how to use his size to his advantage but does not have great footwork or post moves just yet. He does however attack the boards and is a good offensive rebounder. One other intriguing aspect of his game is that he can step out from the hoop and shoot a jumper. His jumper still needs improvement but it is something he is capable of doing. The disappointing part of his game is the lack of a defensive presence. Someone his size should be more of a deterrent around the rim but adding muscle may also help that in the long run. Milutinov is another European project. Most centers are projects at this age but he is a little further along than some, yet still has a long way to go.
The best thing for him will be playing out his three year contract and then seeing how the Spurs situation looks. This is a three year process and then we can see if it is time for him to the join the NBA. Knowing Gregg Popovich and the Spurs, they most likely found a good one.
Graphic via euroleague