Terry Rozier played two years at Louisville University before declaring for the NBA draft where he was drafted by the
Boston Celtics
16th overall. In his sophomore year at Louisville, Rozier led the Cardinals into the NCAA tournament behind his 17 points per game. He was a very good two way point guard who could hound opposing point guards and score the ball at a high clip on the offensive end. Rozier is not the biggest guard ever at 6'1" but is strong and has an attack mentally when going to the hoop. His outside shot is decent but can be inconsistent from time to time. His game reminds of a smaller Dwyane Wade. Going to Boston it will be a battle for the point guard to earn any playing time. It was an interesting selection for the Celtics, considering they have Marcus Smart and Isaiah Thomas occupying the point guard spots currently.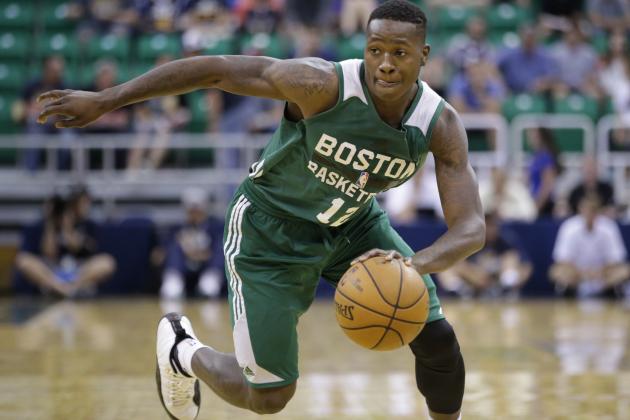 Graphic via bleacherreport
Boston has a handful of young guards that Rozier would have to beat out for a roster spot, let alone playing time. The selection by Boston may say something about the development of Marcus Smart. It could be an indictment of Smart or simply a case of selecting the best player available. Whatever the case, Rozier has an uphill battle ahead of him. If anything, Rozier is a pretty similar player to Smart in the fact that he is a good defender and a solid offensive player but his shot can abandon him at times. In the summer league, Rozier faired pretty well overall.
In 8 games he averaged over 12 points per game. He shot the ball very well from the free throw line and from three point range, but had a poor overall shooting percentage of just 35%. Some of that was due to a poor final game where he went just 2-12 from the field. On the positive side he did convert a three pointer in every game but one despite never shooting more than four. His best game was a 22 point outing in which he got to the free throw line 13 times, converting 12. Another positive for Rozier at the summer league was the way he handled the point guard duties. His game high for turnovers was 3, which is an area many rookies struggle at during the summer league.
Overall it was a good showing for him and at times he did outplay Marcus Smart. The problem for Rozier is that Smart and Thomas seem to have the first two point guard spots locked up. Therefore he will have to battle with Phil Pressey for the third point guard spot. Rozier is probably too small to play the two position so he will have to make a name for himself at the point.
Graphic via cbslocal