Willie Cauley-Stein served three fun seasons at Kentucky, where he's seen a number of one-and-done teammates turn into NBA players before his very eyes. During the same period of time the
Sacramento Kings
have struggled mightily against a stacked western conference at the helm of poor management and ownership. In his first draft, infamous ex-NBA player Vlade Divac, now in charge of basketball operations for Sacramento, took Cauley-Stein with the sixth pick and was finally a step in the right direction for the franchise. The Knicks were reportedly enamored with Willie Cauley-Stein with the No. 4 pick and wanted to bring him in as a core part of their rebuild but it may have been his ankle injury cause them to sway, as big men with foot injuries such as Brook Lopez and Joel Embiid, don't have a great track record in the NBA as of late.
Though the uncertainty of the future of DeMarcus Cousins as a King is still looming, it looks that at least for now that Cauley-Stein will play a complementary role next to him. Through his three years as a Wildcat, Cauley-Stein put up averages of 8.9 points, 6.4 rebounds and 1.7 blocks in 25.9 minutes per game. At first glance, the numbers are nothing to gawk over, but the avid college hoops fan knows that his stats are skewed due to Kentucky's unique rotation system and incredible depth at all positions over his three years.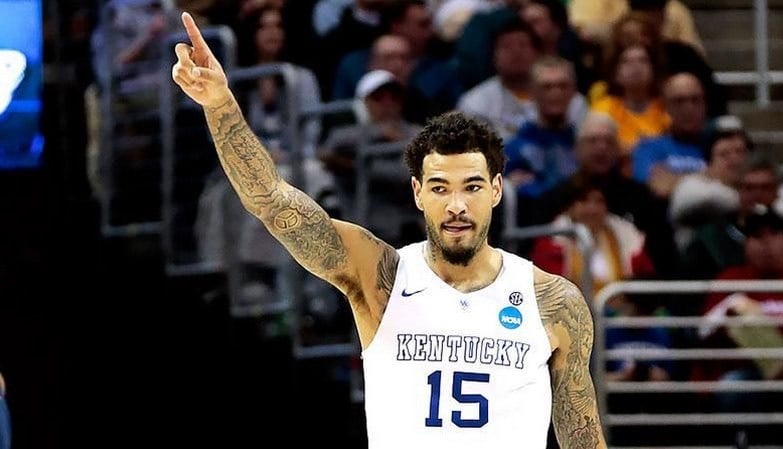 Graphic via wdrb
Cauley-Stein measures at 7-foot-1 with an equally impressive 7-foot-2 wingspan, ideal for an NBA rim protector. In college, he displayed all the tools of a potential defensive anchor with his incredible athleticism for a big man allowing him to shut down opposing frontcourt players while contributing to overall team defense in the form of rotations and help. The 2015 SEC Defensive Player of the Year was a feared force on that end of the court and was famed for being able to lockdown every single position, most with a blindfold on. Although he will likely not be able to shutdown guards at the NBA level, he will be able to defend all three frontcourt positions, highlighting his invaluable versatility. His athleticism will allow for a smoother translation to the pro level, with his vertical reach and lateral quickness for a big man forcing his way into the same conversation as Dwight Howard, Tyson Chandler, Rudy Gobert and Miles Plumlee.
The former Wildcat is going to need to add some size if he's going to compete with the physicality of the NBA as he's too far on the thin size right now and will get out-muscled with ease. On the offensive side of the ball, he's not going to offer much, as he's nowhere close to being considered a low-post scoring threat and doesn't have a soft shooting stroke like other frontcourt lottery players in the draft. We'll say his offensive game is a work in progress at this point.
In drafting Willie Cauley-Stein, Sacramento forms a promising pair of ex-Wildcats that have the potential to play elite defense down low. With the DeMarcus saga being dragged on longer and longer, the Cauley-Stein is looking as a better and better pick as insurance. Expect to see Willie Cauley-Stein as a contender for Defensive Player of the Year nominations for years to come.
Graphic via slamonline