College:
Nobody expected the multi-talented, Justise Winslow, to fall to number ten. As a matter of fact, he was predicted to belong somewhere in the top five by many experts, so when Miami's turn came around they already knew they couldn't imitate the prior teams and pass up on the Duke product.
Winslow was an integral cog in the Duke system and played a major role in securing the 2015 NCAA championship. At and , Winslow was able to display his versatility and play both shooting guard and small forward positions. After averaging 12.6 PPG, 6.5 RPG, 2.1 ASP, and 1.3 SPG, Winslow drew comparisons to former Duke star, Grant Hill. One stat that particularly stood out was his impressive 3PT%. Having converted on threes at an elite 42%, he was regarded as one of the better long distance shooters in the class. Adding to his accolade of NCAA Champion, he was also selected to be part of the McDonald's All American Game.
Following the example of many players before him, Winslow performed the "One and Done" and declared for the NBA Draft in April 2015 after one year at Duke.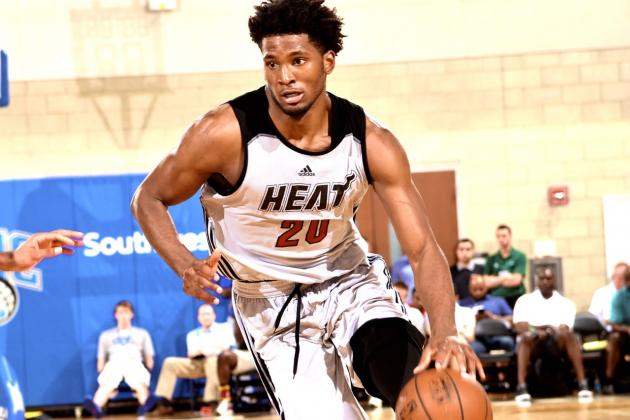 Graphic via bleacher report
Strengths & Weaknesses:
Winslow is a phenomenal athlete with the potential to be deadly on the offensive end. He combines his speed, jumping ability and shooting touch to create multiple ways to attack the opposing team. The ability to finish at the rim through contact is vital for slashers and he possesses that skill at an already elite level. Not to mention, he shot extremely well from 3-Point range and that shooting touch will help him create an immediate impact on his team. Due to these unique talents many scouts are placing his ceiling as high as James Harden with the proper development. On the defensive end Winslow can be a nuisance that other players need to be weary of. With his 6'10 wingspan and 8'7 reach it is no wonder he was able to average over a steal and nearly a block per game. If that translate to the NBA he can develop a similar defensive intensity to that of Dwyane Wade.
The biggest knack on Winslow's game is his consistency. He has struggled with this since his high school career. One game he can make himself look like a demigod overflowing with all the potential in the world and the next he can seem lost and out of place. Another aspect of his game needing definite improvement is his FT shooting. 64% is not going to cut it, especially when a large part of his game revolves around getting to the rim where he is sure to meet contact. If he can't convert at the line then that will surely be a hindrance.
Fit On The Miami Heat:
The Miami Heat are definitely contenders in the East with their new and improved rooster. After adding key role players and the return of Chris Bosh, the Heat are going to have very little room for error when trying to compete for the Championship. This usually means the reduction of time for rookies in favor of players with NBA experience, but Winslow is a wildcard.
Winslow has shown the ability to make an immediate impact at the NBA level due to his developed body and strong defensive capabilities, but if he cannot improve his FT shooting he can become a liability when teams decide to hack him and force him to earn his points at the line.
One underlying positive for Winslow is being able to learn from none other than Dwayne Wade himself. They both possess similar games and if Dwyane Wade is willing to mentor Winslow, we can expect to see big things from the Heat's rookie.
Graphic via basketball-society