Marpet played his college ball at Hobart, a Division III school in the Liberty Conference. He was selected to the Senior Bowl, the first Division III player to ever have done so, and this seemed to benefit him in the short run. That, and a great performance at the combine, caught the attention of the
Tampa Bay Buccaneers
who selected Marpet in the second round, with the 61st pick
overall
.  As a center, he started in 37 games, out of the total 43 that he played for Hobart.  He was selected to the second team Little A.P. All-American Team, in addition to the first-team All-Liberty Conference in 2014. That same year he was named the Liberty Conference Co-Offensive Player of the year, a season in which he did now allow even one sack. For the 2013 season, he as the team captain and was selected to the first team All-Liberty.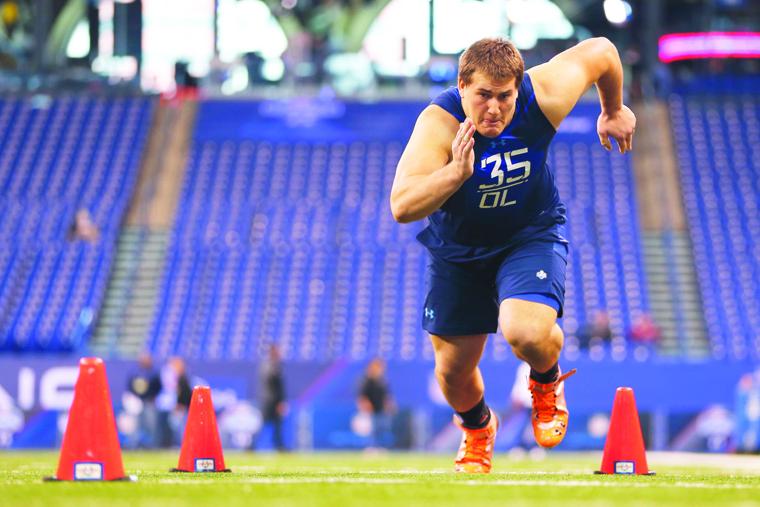 Graphic via fltimes
At the combine, he recorded times of 4.98 seconds in the 40-yard dash, 7.33 seconds in the 3-cone drill, and 4.47 seconds in the 20-yard shuttle. Those were all best times amongst all draft prospects in his class. He also put up 30 reps on the bench, and had a 30.5-inch vertical jump and 108.0 inch broad jump. At 6'4" and 307 pounds, he does exhibit good foot quickness, and he has the ability to reach around and hook his opponents.  Another major strength is that he is able to get out of his stance quickly and right into the defender. In doing so, he is usually the low man on the block, using his hips well to drive his man backward and finish him off. He is usually consistent with his hand placement in both the run and the pass, and he played with an advanced technique for a Division III player. He was able to hold his own at the Senior Bowl against more seasoned Division I veterans, showcasing both quickness and strength, so he does have the opportunity to compete at the pro level.
One of the major weaknesses for Marpet has been touched upon already, and that is the reality that he was not challenged nearly enough at Division III level. He simply played against inferior competition, so it is not really known how he will do against the bigger and more physical opponents he will encounter in the NFL. He also tends to get caught leaning and lunging, and he does let more inferior athletes get to his edge. He does have short legs, and he needs to add more thickness through his entire body. It remains to be seen how the Buccaneers will use Marpet, but at minimum he should be a solid backup in the coming years.
Graphic via democratandchronicle