Hailing from the Pac-12 Stanford University, offensive tackle Andrus Peat was selected in the first round by the New Orleans Saints, using their 13th overall pick to do so. During his junior season, Peat was voted onto the second tier of the All American Team. During that same season, he was also a semifinalist for the Outland Trophy. He also exhibited consistency in the lineup, starting the last 27 games of his playing career at Stanford. Opting to leave the collegiate level one year early as an offensive tackle was a gamble that appears to have paid off for Peat.  To be fair, he had a slightly better than average combine, which probably contributed to his mid-first round selection, so he should be pleased with the end results. He ran 5.18sec 40 yard-dash, and exhibited a 31.0 inch vertical jump. He also showed that he has a 105.0 inch broad jump, and was able to complete the 3 cone drill in 8.01 sec and the 20 yard shuttle in only 4.62 sec. Overall, not bad speed was exhibited by the offensive tackle, so Drew Brees should be pleased with the protection that he can potentially provide both himself and the rushing team.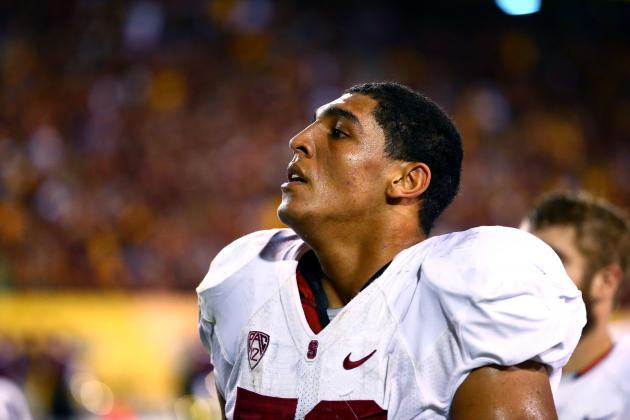 Graphic via bleacherreport
A major strength rests in Peats tall stature, and his thick lower body. He is also well proportioned, enabling him to exhibit excellent movement at the position. He is big and powerful, at 313 pounds and standing at 6 feet and 7 inches, so he has the potential to be quite a force to be reckoned on a Saints Team that did little to keep defenses at bay last season. Coming from a football family has helped him as well, as he expresses a higher than average football IQ and is able to under play protections on the fly. Given the complexity of the Saints offense, this should be a bonus that will help him immensely gain playing time during his rookie season and beyond.
Peat does have a tendency to show his hands too early, giving a quality defensive player an often easy jump on getting around him. On the left side, he displays some fear, and he opens up prematurely on far too many plays, so this will need to be worked in order to succeed at the pro level. At Stanford, he also focused far too heavily on the first block, allowing a second player to easily get around him. This will not fly at the pro level, and caused many scouts to make the claim that he was overrated come draft time. He will need to work hard to prove them wrong.
In the end, the Saints drafted well, as last season demonstrated glaring weaknesses at this position. Opting to go with a rookie rather a seasoned veteran via a trade might be a risky gamble, but Peat has the making to be everything that the Saints require at the position. As he matures, he will either illustrate his worth or prove the critics right. For his sake, he hopes it is the former.
Graphic via azcentral