Brandon Scherff has come a long way since he was ranked as the #44 offensive tackle prospect by Rivals in 2010. The Denison, Iowa native is what you would call farm boy strong and he took that low ranking with him to the University of Iowa where he became one of the top players in college football last fall. With pass rushers getting better and better by the year there has never been a greater need for a dominant offensive tackle as there is in today's NFL. That is why the Washington Redskins took Scherff with the #5 overall pick in the 2015 NFL Draft.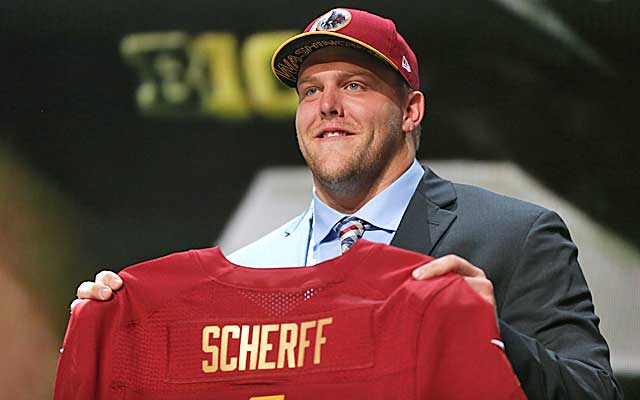 graphic via cbssports
Scherff redshirted his first year at Iowa, a college known for their ability to produce NFL quality maulers in the trenches. As a freshman Scherff saw limited time, but in his three starts at left guard he showed enough promise that head coach Kirk Ferentz had no qualms about naming him the starting left tackle before his sophomore season. After starting the first seven games of the season Scherff suffered a broken fibula and dislocated ankle, but came back strong in as a junior to become one of the most dominant left tackles in college.
As a senior Scherff continued his upward trajectory and was awarded the Outland Trophy as the country's best interior lineman. This cemented his place as one of the tope linemen in the draft and an ideal target for a Washington team who are desperately in need of some stability on the line. Going from a collegiate program at Iowa which is known for its ability to produce dominant linemen, to an NFL team in the Redskins who are famed for the days of "The Hogs" seems like the perfect fit.
At the combine Scherff showed off his reputation as being a powerhouse by throwing up the 225-pound bench press bar 22 times. He also put up respectable numbers in the vertical jump (32.5 inches), broad jump (8 feet, 11 inches) and the short shuttle (4.57 seconds). All these numbers point to the fact that he is a powerful run blocker who will be able to step into that role immediately. Where Scherff needs to continue his development is on the pass blocking side of his game, especially against the caliber of defensive ends and speed rushers he will see on a weekly basis in the NFL.
Scherff will play right tackle in Washington, a position he was given from day one with the team. He has been working one on one with offensive line coach Bill Callahan in order to hone his natural instincts and adapt to the pace of the NFL game. Scherff has all the tools to become one of the better tackles in the NFL, his development from this point forward will be interesting to follow for Iowa and Redskin's fans alike.
Graphics via gothamsn, cbssports