Dante Fowler Jr. had his NFL career began in the most unlucky way imaginable. The #3 overall pick of the 2015 Draft was in the middle of his first practice as a Jaguar when he crumpled to the ground during an 11-on-11 drill while facing off against offensive lineman Watts Dantzler. The result was a torn ACL on the very first day of rookie minicamp, and Fowler's 2015 season is over.
Four days later Fowler's world got a little brighter when news filtered through that he had signed a four-year, $23.5 million deal in Jacksonville. This fully guaranteed contract shows the faith that the Jaguars have in the defensive end to complete his rehab and get back to being the player that they expected to see on the field this year.
If Fowler can come back at something like his peak then he has all the tools to be one of the most dominant defensive ends in the entire NFL. At 6'3" and 261 pounds, Fowler is a two time All-SEC performer who starred at Florida after coming to the Gators as a five-star recruit who garnered comparisons to Dwight Freeney.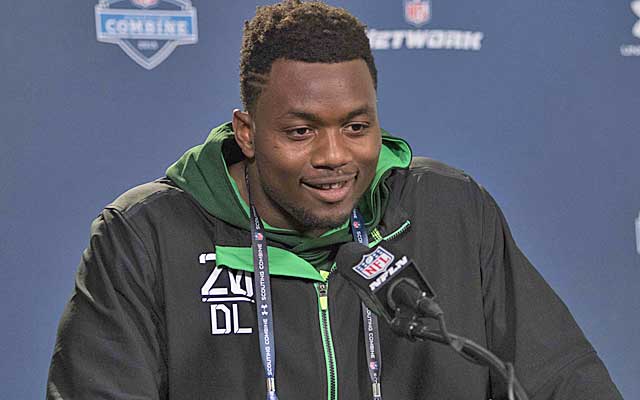 While at Florida, Fowler played a number of spots and shone on a team which was not as competitive as it has been in the recent past. In his junior (2014) season, Fowler lost 15 pounds in order to be a more explosive edge rusher and started developing a series of pass rushing moves as opposed to using brute strength to collapse the pocket. Fowler got better as the season went on, recording 60 tackles, 8.5 sacks and two forced fumbles. In his very last game as a Gator, Fowler was able to improve his draft stock with a dominating performance against East Carolina in the Birmingham Bowl where he recorded three sacks.
It was Fowler's attitude after his injury which convinced the Jaguars to still pay their new asset. Fowler knows that his journey back is a long one, but he has promised to attack the rehab with all the ferocity which made him such a feared pass rusher in college over the last couple of seasons. It shows great faith by the team too as they know that a healthy Fowler will give them meaningful production on the field for the duration of his rookie contract, even if that production will be a year more delayed than initially expected.
This year off could even be to Fowler's benefit further down the line. Every year we see quarterbacks taken in the draft who sit behind a veteran and learn their craft through religiously watching film and soaking in the knowledge. Generally players at other positions don't have this luxury as they are thrust into the starting lineup immediately if they have the talent to be there. Fowler is a potential Pro Bowl level player if he uses what the coaches tell him to address his pass rush technique and learn the tricks of being a pass rusher in the NFL. With this enforced break he will be in the right position to do just that.
Graphics via atlantafalcons, cbssports