The Tennessee Titans  selected Dorial Green-Beckham with their eighth pick in the second round of this year's draft.  Green-Beckham played his collegiate ball at Missouri, and had quite a good, albeit short, tenure there, but it was often overshadowed by this behavior off the field that could haunt him in the NFL should it continue. At 6'5", he has a tremendous build for a wide receiver, and he does show a lot of promise at that position, which is likely why the Titans showed some faith in him by selecting him so high in the draft. Ken Wisenhunt is known for his disciplined approach to the game and his team, so this could be exactly what Green-Beckham needed to get this start.
This player takes a lot of risks, but gives back plenty in the way of rewards. He has a big body that should allow him to get his fair share of attention down the field. Due to his off field problems, his collegiate stats are rather limiting, which alone demonstrates his promise given his high selection in the draft. He played two seasons at Missouri, but was mired with drug, assault, and theft charges throughout. He was finally dismissed from the Tigers and transferred to Oklahoma, but was ineligible to play there.  That being said, he does have some physical talent that bodes well for him at the wide receiver position.  He has great size and more than adequate (but not great) speed.  He will benefit from strong coaching, will need to refine his ability to run routes effectively. The deficiencies just mentioned, combined with the character issues, do call into question rather or not he will be a success in the NFL, but one would think that this will hash itself out rather quickly in Tennessee.  He had a decent combine and Pro Day, helping his draft prospects.  He did run a 4.49 second dash, and he had a vertical leap. Couple that with his broad jump and 13 reps on the bench press, and he certainly did not hurt himself with that performance. He was also consistent, putting up similar numbers at Pro Day with a vertical jump and a broad jump.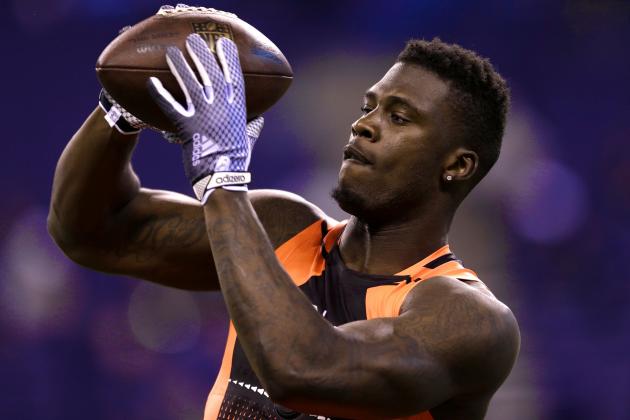 Graphic via bleacherreport
In the end, the NFL is cracking down on players that have problems with substance abuse, and Green-Beckham is certainly entering the league at a perilous time. Given his skills, he could have gone much higher in the draft, but many teams were not willing to take the gamble. He has promise, however, as demonstrated by his 87 passes, totaling 1,278 yards and 17 touchdowns, in his two years at Missouri. If can take care of himself on and off the field, develop some maturity, and respond well to disciplined coach, he could just find himself a home in Tennessee.
Graphic via usatoday