Frank Clark played in the Big Ten at the
University of Michigan
.  As a defensive end, he was selected in the second round by the
Seattle Seahawks
with the 63rd pick overall.  He did finish second on the team with a total of 13.5 tackles for a los, in addition to 4.5 sacks during the 2014 season. He was summarily dismissed from the team in November, however, due to an arrest for domestic violence. He ended up accepting a plea bargain that lead to a dismissal of some of the charges, but there are nonetheless concerns about his character. In 2013, he was selected to the second team All-Big ten, after leading Michigan in tackles for a loss with 12. He also finished second on the team that year with 4.5 sacks. It is also important to note that he was suspended early on at Michigan for a felony home invasion charge, which coupled with his domestic violence issues, likely caused many teams to pass on him in the draft.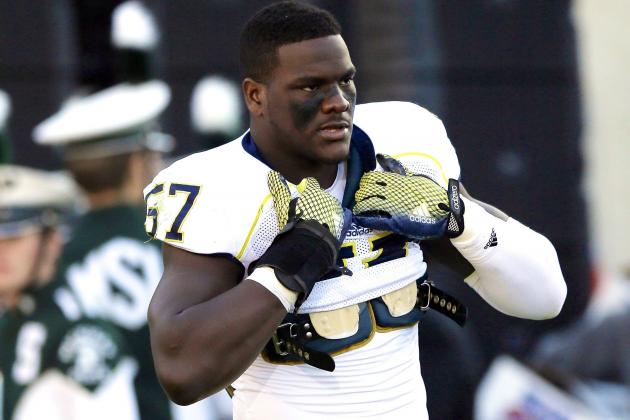 Clark did have a solid combine, posting a top score in his class in four different categories.  Those included the vertical jump at 38.5 inches, and recorded times of 7.08 seconds on the 3-cone drill, 4.05 seconds on the 20-yard yard shuttle, and 11.22 seconds on the 60-yard shuttle. He also posted a time of 4.79 seconds on the 40-yard dash, had 19 reps on the bench press, and showcased a 118.0 inch broad jump.  At 6'3" and 271 pounds, Clark is a downhill defensive end who has demonstrated that he can play on the both sides of the line of scrimmage.  He does possess the power to control the edge, and he can disengage from blockers and finish as a tackler.  He can fire out of his stance with good acceleration up field, making him an effective pass rusher. He is also able to keep his pad level low, and he can convert his speed to power when necessary. Another strength to note rests in his ability to get his shoulders turned around when he rounds the corner as a pass rusher, which does give him an advantage in leverage.
A noted weakness is that Clark is an effort rusher who tends to rely on his speed and power, as opposed to football talent. At this time, he does lack fluidity and that ability to transition naturally from move to move as a pass rusher. He also does not gain much ground with a spin-move counter, as he is often caught twisting in place. This, coupled with his off the field issues in college, makes many question his commitment to football.  Time will only tell how this selection pans out for the Seahawks, but given their depth, Clark will probably be watching more football than he plays for awhile, which might give him time to mature into being successful in the NFL.
Graphics via bleacherreport