Having played his college ball in the Pac-12 at the University of Oregon, Jake Fisher is an offensive tackle selected by the Cincinnati Bengals in the second round of the draft with the 53rd overall pick.  During his time at Oregon, he played in a total 50 games, starting in 35 of them. He is a polished player that was consistent for the Ducks on the offensive line. He was voted to the third-team All-American and first-team All-Pac 12 in 2014. That year he started 13 games at right tackle, missing the Washington State game due to a leg injury.
Fisher had a great combine, coming in at the top in his class in four different categories. He ran his way to a 5.01 second 40 yard dash, a 7.25 second 3-cone drill, and a 4.33 second 20-yard shuttle.  He also showcased a 32.5-inch vertical jump, and was able to complete 25 repetitions on the bench press.  Fisher is a former tight end who can move easily and naturally in his position on the offensive line. He exhibits good initial quickness, enabling him to reach cross-face blocks with power. He is a great finisher in a zone game.  In addition, he is able to sustain blocks with a proper hip roll, and is able to balance through the contact. At 6'6" and 306 pounds, he can control himself well, and is able to use his base well to make controlled steps when is a pass set. Another strength is that he can time transitions well from the initial block to a second-level assignment, and he able to adjust and change direction well.  He can fight back with focus if he loses initial contact with a defender, and he is not willing to give up on a play.  He has a good football IQ at his position, and is able to comprehend how to create leverage and use that to his advantage by using angles and footwork.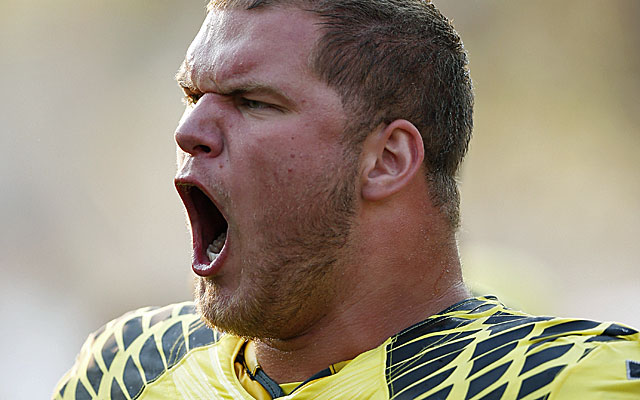 Graphic via cbssports
A major weakness is that Fisher is often penalized. This is demonstrated by the fact that he was the most penalized tackle over the last two seasons that made themselves available in this year's draft.  He had six holding calls during the 2014 season alone. He does need to develop better angles in order to get a more consistent push in the run game. He also lacks a bit of power, and he allows his outside hand to go too wide in a passing position. This opens himself up too much in a bull rush.  He also tends to catch the pass rusher as opposed to punching, and there is not much of a pop in his hands. In the end, if these issues can be overcome, the Bengals have landed themselves a very accomplished zone tack that should fit in well with the overall scheme being implemented in Cincinnati.
Graphic via cowboysblog