Playing the cornerback in the SEC certainly affords a player the unique opportunity to develop and mature into the NFL.  Jalen Collins played his collegiate ball at LSU, and was drafted with the 42nd overall pick in the second round of this year's draft by Atlanta Falcons. Slated to go in the first round, Collins seems to have had his stock drop because of a lack of maturity, and having not been tested to this point, only making 10 starts during his tenure at LSU.
During the 2014 season, Collins did play in all 13 games for LSU, starting in seven of them.  He lead the Tigers during that time with 10 passes having been defensed, and he only allowed a completion rate of slightly over 35 percent when taking into account passes thrown at him. During the previous season, he lost his starting job after only two games, but did play in every game, allowing 10 completions for 163 yards.  He was selected to the Freshman All-SEC team in 2012, having finished that year with two interceptions.  At the combine, he performed respectably, completing the 40-yard dash in 4.48 seconds, and showing off a 36.0 inch vertical jump and 124.0 inch broad jump.  He also has a combine best at this position in the 3-cone drill, turning in a time of 6.77 seconds.  He rounded this off with a 4.27 second time in the 20 yard shuttle.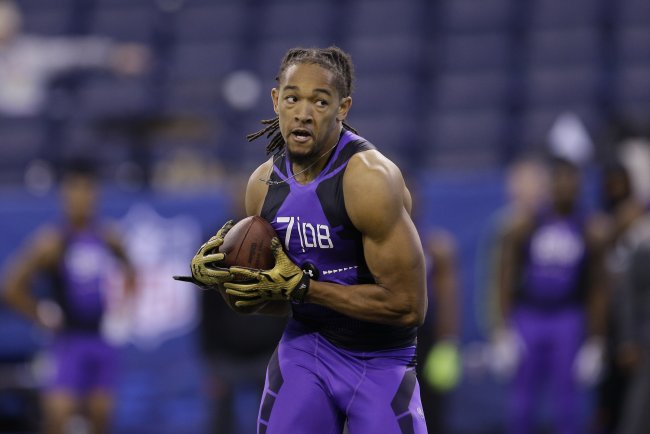 Graphic via bleacherreport.com
At 6'1" and 203 pounds, Collins has the height, weight, and speed to be successful at the pro level.  His is also quick on the feet, and can trigger his movements on demand.  He has developed some soft and bouncy foot movements that he can use to change direction when needed, and he is frequently seen diving instantly for throws.  With a 32 1/8" arm length, he is able to play from a trailing position and still be able to knock passes away with ease.  He can make plays outside of his area, and he possesses the speed necessary to come across the field and chase down a running back or receiver that has broken loose.  Another strength lies in his ability to redirect press coverage, and scouts feel that this will get better with proper coaching at the NFL level.
As mentioned, one noticeable weakness is the reality that he only had 10 starts for LSU. He tends to try to play with his talent and athleticism, and often fails to focus on technique.  He does need to improve his patience level in press coverage, and stop opening up too early. It is also noted that he is stiff-hipped, and that he is a bit slow in his acceleration.  He gradually builds up speed rather than demonstrating that explosive power that would be helpful at the pro level. The Falcons, however, got a steal in him being available so late in the draft, and with proper coaching, and continued player maturity, he should perform and fit into the Falcon defense nicely.
Graphic via nola