The
Oakland Raiders
took
Mario Edwards Jr
. in the second round of the 2015 NFL draft.
The defensive lineman was the 35
th
overall pick in the draft and the Raiders hope they can help him realize his talent. Coming out of high school, Edwards was the number one ranked player in the country, but he never lived up to those expectations while at
Florida State
. He played three years at Florida State and was a starter for the last two. Despite his prestigious standing out of high school, in college he was just another guy and far from a star player. While starting his sophomore and junior year at Florida State, Edwards recorded just over 50 tackles and 6 sacks. He played some defensive end, but mostly played as a defensive tackle. He was awarded first team
All-ACC
honors in his junior season before declaring for the
NFL
draft. Edwards is a hard player to evaluate because his weight fluctuates and so does his game. When in tip top shape he has the ability to play defensive end, but he does have the tendency to put on weight which hurts his speed and agility.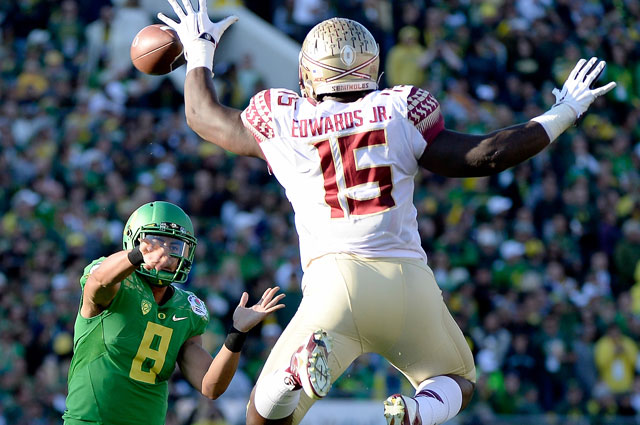 Graphic via 

cbssports
He is listed at 6'3" and his weight goes up and down between the 275-315 pound ranges. He is a solid athlete for a defensive lineman when his weight is down. When conditioning and weight management are issues for a player, you have to question their desire. Do they truly love the sport? That is what many NFL personnel were asking about Edwards. Coming into the draft he was projected to go in the 3rd or 4th round, so going early in the second had to be a pleasant surprise. The Raiders could use all the help they can get on defense and when motivated Edwards can be a good player. It is always risky to gamble on a player such as Edwards but Oakland must have ignored the downside and thought about the potential he possess. He has the tools to be a good defensive tackle in the NFL. With his size he can be a good run stopper and if he controls his weight he could also help in the passing game some. Frankly the second round was too early to gamble on a player who lacks motivation. If he was already unmotivated to play football, then how will he act when he gets a big payday and feels secure?
The bottom line is that there are far too many questions regarding Mario Edwards to evaluate how he can contribute to the Oakland Raiders this season. The first step for him is to work himself into good shape and find the love for the game of football. If those things happen, he can be a good player down the line.
Graphic via rantsports