The
Arizona Cardinals
used the 58
th
overall pick in this year's draft to select defensive end
Markus Golden
of
Missouri
in the second round. Golden actually switched from being a linebacker to a defensive lineman in 2013, and it certainly seems to have paid off. After making the switch, he quickly emerged on the scene as a top pass rushing prospect, having had a stellar senior season. In 2014, he tallied 10 sacks and 20 tackles for a loss. This was good enough to earn him a second team
All-SEC
selection.  Analysts note that he is of good character, both on and of the field, and that he has a solid work ethic. This will work well with the disciplined approach that coach Bruce Arians has implemented in the desert, where they are gunning hard for the Seahawks.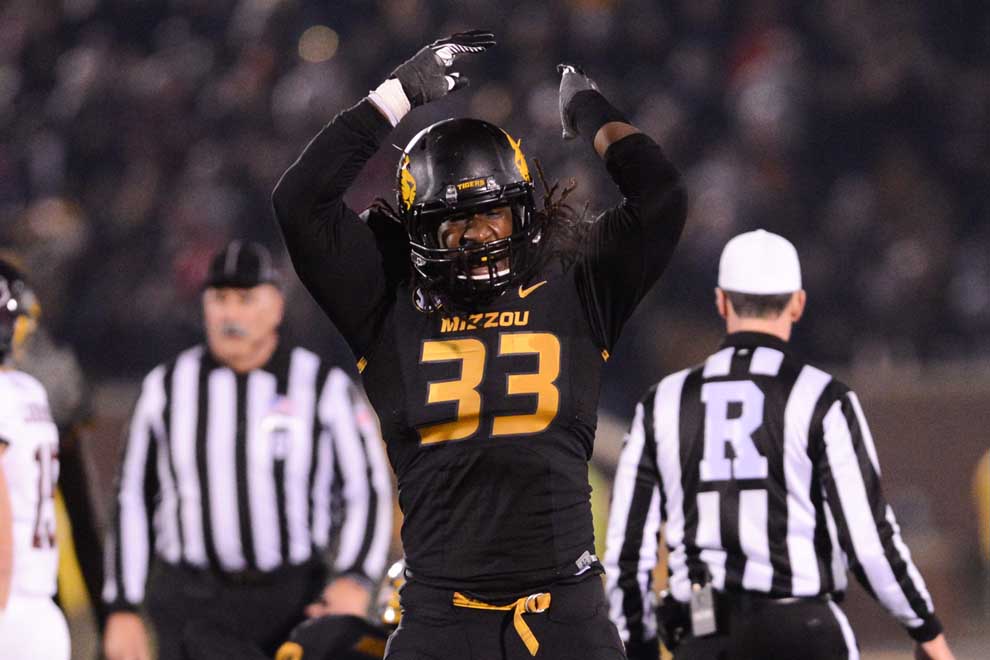 Graphic via 

wvuafm
At the combine, Golden weighed in at 6'2" and 260 pounds, but it was noted that he has short arms at only 31 inches. This is not ideal from a defensive end perspective, but he has demonstrated that he can compensate well.  He had a great workout at both the combine and
Pro Day
that attracted the interest of several teams, the Cardinals of course among them. At the combine, he posted a 40 yard dash time of 4.90 seconds, while at Pro Day he elevated that to times of 4.74 and 4.76 seconds. He had a vertical jump of 28.5 inches and a broad jump of 9'2".  Rounding it out, he ran the short shuttle in 4.57 seconds and completed the 3-cone drill in 7.38 seconds, while completing 17 reps of 225 pounds on the bench press.  
A noted strength is that Golden plays with a lot of toughness and grit.  He is a fighter and knows how to turn on the effort and keep it there. He can set and hold the edge, particularly against the run.  It is also noted that he will stay in pursuit of his man to the end, and accelerates well moving down the field.  He is able to hold his ground at the point of attack, and does show good field awareness, being able to locate the ball quickly. He has strength in his hands and is a heavy tackler.
One weakness that has been noted is that he is a plodding, straight line player. He does lack the ability to get off quickly after the snap, and he has a limited tackle range. He does not use his hands well to shed the offense, meaning he does not win the battle nearly often enough. In the end, he is a hard worker and this will fit in well with the disciplined approach at Arizona.  The Cardinals are stacked on defense and rated near the top in the NFL, so this pick might surprise many, but Arians is known to build for the future.  Golden might have to settle for being a backup for a time, but with his solid work ethic, he will be ready when called upon.
Graphic via footballsfuture