The
Kansas City Chiefs
decided to take a chance on talented cornerback
Marcus Peters
with the 18
th
pick in the draft. Peters played football at
Washington University
but was kicked off the team his junior year and decided to apply for the draft afterwards. He was granted permission to enter the draft and it paid off as the Chiefs selected him in the first round despite his disciplinary situation in
college
. Peters was suspended one game and ultimately kicked off the team for continuously arguing with his coaches. Clearly, this is not something
NFL
teams want to see but the Chiefs must have taken a good look at Peters and felt comfortable enough to draft him early despite his issues.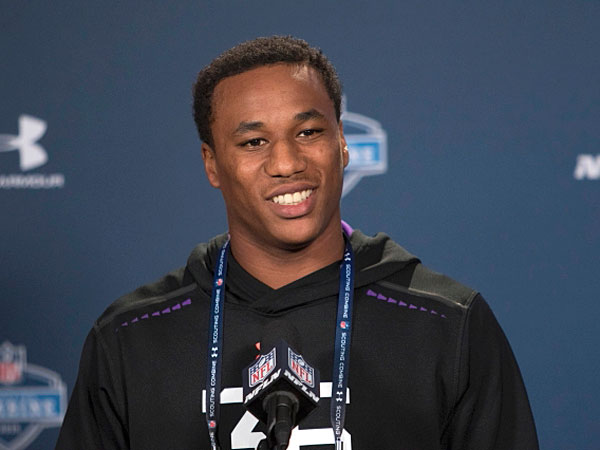 Graphic via 

philly
On the field, Peters is a talented
cornerback
, but much like his personality, his game has flaws. He flashes the talent of a very good cornerback but he is inconsistent. He seemed to allow his talent to do the work in college without refining the little parts of his game. Before being dismissed from Washington, Peters showed his promise. He is a skilled cover corner who had 8 interceptions over the course of two seasons. He also allowed quarterbacks to complete less than 40 percent of the passes thrown to his man. He can stick to his man as a cover corner and also has good ball skills when thrown at. He has the size of a typical NFL cornerback and has the potential to become a good one. Practice reps could be beneficial for Peters as he lacks the little things such as consistent technique and footwork. Discipline is a major problem for him on and off the field. In Kansas City, he has the chance to start on a good defensive unit. Peters could use more development but has the tools to be a starting NFL cornerback in a year or two. He has great confidence in his game, but it can be a double edged sword. It seems Peter's attitude is the only thing really holding him back from becoming a good NFL player. The Chiefs better have a strong locker room that can hold him in check or they may regret their first round pick. If he can allow his confidence to be just that and not border on cockiness he could improve his game in the necessary areas.
He will also have to learn to deal with coaches. If he has problems listening to coaches in the NFL as he did in college, teams simply will not waste their time on him. Maybe the Chiefs know something we do not about that situation or maybe they just liked his overall talent. He is a player that could go either way. We will have to wait and see.
Graphics via 

nypost