On the heels of a better than expected combine performance, Ronald Darby was selected in the second round by the Buffalo Bills, with the 50th overall pick.  Darby played his college ball in the ACC with the Florida State Seminoles, so he is certainly has some great experience under his belt. Playing the cornerback position, he was selected to the third team All-ACC in 2014.  Last season was one that saw him allow just 41.9 percent of the passes tossed his direction to be completed.  During the 2013 season, he played in all 14 games that the Seminoles played, starting in 9 of them.  He has big game experience under his belt, and he broke up a pass against Auburn in the BCS National Championship Game.  In 2012, he was selected as the ACC Defensive Rookie of the Year, and he was also tied for the lead on the team with eight total pass breakups.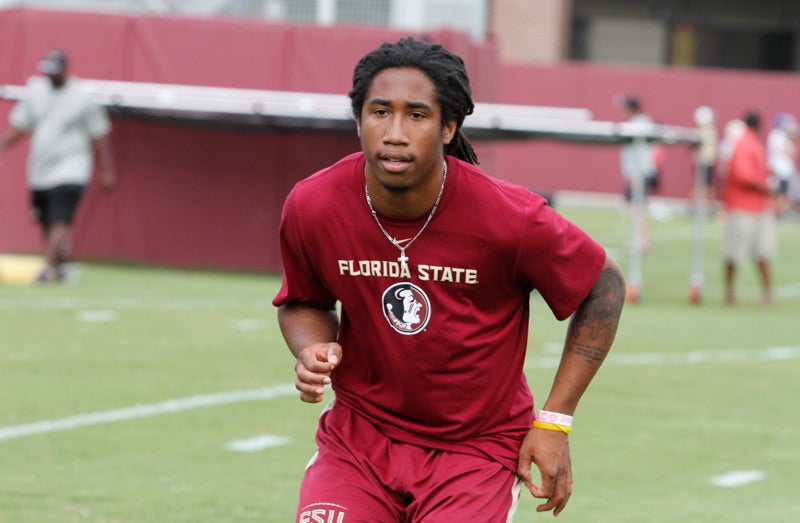 Graphic via 247sports
He was the top combine performer at his position in two categories, those being the 40 yard dash and vertical jump.  He ran his way to a 4.38 second 40 yard dash and had a vertical jump of 41.5 inches.  At the combine, he was also able to put up 12 repetitions on the bench press, had a 129.0 inch broad jump, and posted times of 6.94 seconds in the 3-cone drill and 4.14 seconds in the 20-yard shuttle. He is fast, as evidenced by him being a former high school track star. He can change directions suddenly, and he has demonstrated his ability to handle the stress associated with press-man coverage.  He is also able to easily swivel to his hips and then run and hit at top speed rather quickly.  He has a good football IQ and is able to dissect combo routes and help his teammates lineup in proper positions before the snap, demonstrating he could be a future leader on the field.
Darby does come with his fair share of weaknesses as well.  He has shown himself to be susceptible to inside releases, and his feet tend to stutter before he transitions to close the distance on a receiver that has gotten loose. He also uses his hands downfield too much, frequently grabbing his man downfield, which will certainly not be tolerated in the NFL. He also has a tendency to duck his head as a tackler in deference to hitting with his helmet, as opposed to wrapping up against running backs.  He also has below average hands, so he might lose some interceptions at the pro level. If he can gain some toughness, he should turn into a solid second round pick for Buffalo.
Graphic via espn