With so many holes to fill on their roster, the Vikings must have had quite a time deciding which direction to head. In the end, the fastest player at the combine in Trae Waynes caught their attention and they selected the cornerback from Michigan State with their first round draft pick, 11th overall. Waynes was able to start in 27 games for the Spartans during his playing career, earning All-Big Ten honors in 2014.  During that year, he was also a semifinalist for the Thorpe Award, and received the unsung hero award at Michigan State for his efforts as well. When he was a junior, he was credited with three interceptions, in addition to breaking up eight passes.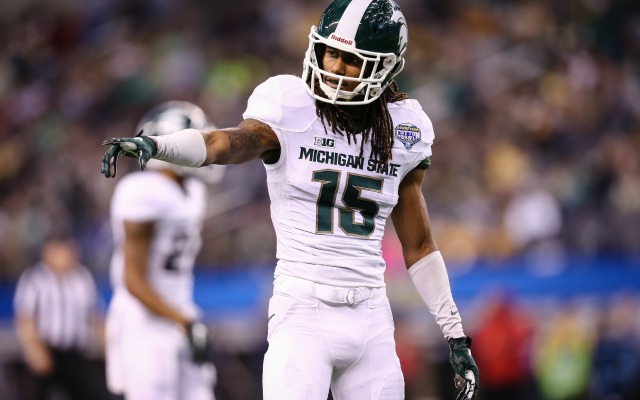 Graphic via cbssports
On top of this, he finished sixth on the team with a total of 46 tackles, which is a very respectable number for a cornerback.  If he can turn in these kinds of numbers at the pro level, Minnesota might have just begun the road to the playoffs in earnest.  To round it all off, many analysts agree that Waynes had the top performance at the NFL combine this past spring.  He demonstrated his speed by racing to a 4.31 second 40-yard dash, and was also able to run off 19 reps in the bench press.  To round it off, he had a 30.0 inch vertical jump, a 122.0 inch broad jump, a 7.06 second 3-cone drill time, and a 4.39 second demonstration in the 20-yard shuttle.  Combined with his perfect build as a cornerback, coming in at 6 feet and 186 pounds, he seems to be a natural fit at the position.
There are numerous strengths to Wayne's game that should suit him well at the pro level.  He is not afraid to compete man to man, so defending against deep coverage patterns should not be an issue, particularly with his speed.  In his last two seasons at Michigan State, he only allowed two touchdowns total, so this is certainly what Minnesota fans are hoping he will repeat in a Vikings uniform.  Because of his ability to accelerate and defend deep, he can literally contest nearly any throw made vertically or horizontally across the field.  His major weakness, however, lies with his hands.  He uses them – a lot – which is not going to fly at the NFL level.  If he does not learn to change his grab and go style, he could find himself heavily penalized in his rookie season.  Vikings coaches will want to work with him on this in training camp, as the rest of the package with Waynes appears to be NFL ready from week 1. He will fit in well with the defensive scheme in Minnesota. If he remains healthy, the defense in the cold weather city likely just got better exponentially.
Graphics via packersnews