When looking at Jameis Winston from a purely football perspective you cannot help but be impressed by his talent. The Alabama native was lured to Florida State with a pitch which allowed him to play both football and baseball in college, but it is on the football field where Winston has grown into the bigger star, eventually rising to be the number one overall pick in the 2015 NFL Draft by the Tampa Bay Buccaneers.
The Bucs have been looking for a quarterback ever since Josh Freeman regressed badly after a decent couple of initial years in Florida. After a disastrous 2014 season which saw the franchise finish with the worst record in the NFL at 2-14, Tampa Bay found themselves in the position to go out and choose between the two top prospects at the position Winston and Marcus Mariota out of Oregon. After watching hours of tape, workouts and interviews, the Bucs decided that Winston was the better fit for their system and drafted the two year starter into their organization.
There is no doubt that Winston will bring a winning mentality to the Tampa Bay locker room. Winston became the first quarterback in college history to win his first 26 collegiate starts, including leading his Florida State team to a 34-31 upset of Auburn in the 2014 BCA National Championship Game. Winston finished his college career 26-1 as a starter with is only loss, ironically, coming to Mariota and Oregon in the College Football Playoff semifinal in January 2015.
As a college player Winston completed 562 of 851 passes for just under 8,000 yards, 65 touchdowns and 28 interceptions. His college highlight was winning the Heisman Trophy on December 14, 2013, becoming the youngest player ever to do so at 19 years and 342 days old. This award came at the end of a season where Winston had continually shown his unrelenting desire to win, pulling Florida State back into games on his own back with his passing which seemed to get more accurate and more devastating as the game progressed.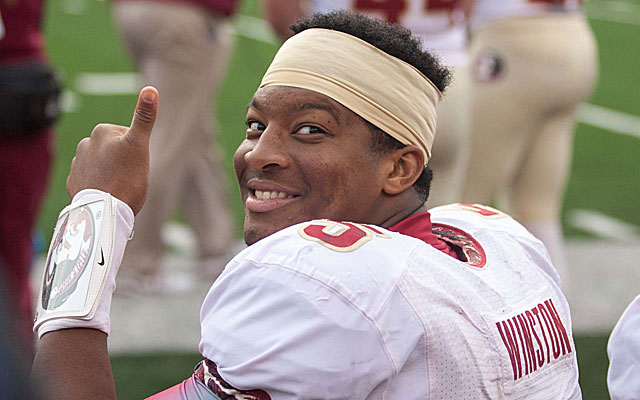 Graphic via cbssports
Unlike many quarterbacks coming out of college in the past decade, Winston's skill set will have no problem adapting to the professional game. He has excellent field vision and has a natural feel for throwing windows and an anticipation of where he receivers are going to be. He also has a thick build and a laser strong arm, which allows him to make all the throws, including the dreaded deep comeback route, even under pressure. Perhaps Winston's biggest strength is his ability to get more focused, and become a better player, when the pressure is on. Often early in games he will be too free with the ball, but as the intensity of the moment mounts he finds another level of play, something which will serve him well in the NFL.
Winston is certainly not without his flaws and detractors, but he seems to develop a level of trust that creates an unwavering support in those who know him. It has been proven time and time again that the NFL is a quarterback driven league and that one correct draft pick at the position can vault a team from worst to first in their division in a single season. Bucs fans are hoping that with Winston the potential becomes reality and that they are competing for the NFC South title this December.
Graphic via nytimes