The Anaheim Ducks earned the number one seed in the western conference a year ago. They racked up 51 regular season wins and had no trouble in the first two rounds of the playoffs, until they met Chicago. The Ducks took control of the series and were one win away from reaching the NHL finals before they surrendered games 6 and 7 to the Blackhawks. Goaltending and defense ultimately let them down as they gave up 5 goals apiece in the final two games. It was a crushing defeat that will fuel the Ducks this upcoming season.
The Anaheim Ducks schedule starts out as light as any around the NHL. The month of October is very favorable for the Ducks until October 26th, when they seek revenge on the Chicago Blackhawks. There is no shame in losing to a team the caliber of the Blackhawks but Anaheim must know that this is the team they will have to overcome to reach their ultimate goal. These teams meet up again in February but the Ducks have another favorable month other than a few matchups with Tampa Bay and New York (Islanders). The Ducks raced out to an early conference lead last year and their 2015 schedule presents the same opportunity. Towards the end of the year, Anaheim faces Calgary and Winnipeg within a four game span. These two represent the first and second round playoff matchups from a year ago, although Anaheim breezed through these rounds with just one loss.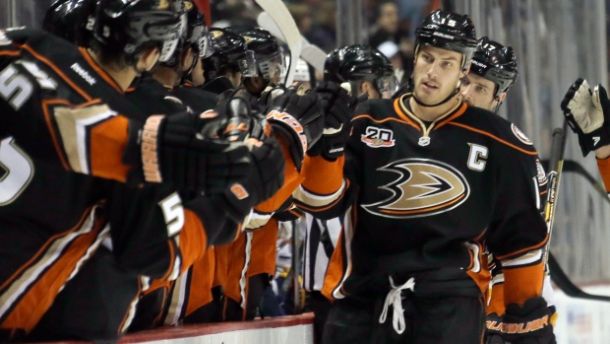 Graphic via vavel
Overall, the Anaheim Ducks schedule is relatively soft until the latter part of the regular season. They have a great record for the majority of the season and do not face stiff competition until the calendar turns to March. Down the stretch of the season they meet up with the Jets and the Flames once again, as well as the Capitals, Rangers, Canadiens, among others. The month of March should get Anaheim prepped for the playoffs after facing lackluster competition for much of the season. The Ducks will see the Jets one last time in April in what has the potential to be another first round playoff matchup next year. The Anaheim Ducks schedule turned out pretty well for them. They will likely be the top seed or at least near the top in the western conference once again next season. They are undoubtedly a Stanley Cup contender next season and there may only be one team standing in their way. The Chicago Blackhawks are looking to add their resume of possibly being a dynasty in the making. Maybe just maybe the Anaheim Ducks can put an end to that run and become the next NHL Stanley Cup champion.
Graphic via mayorsmanor