After their surprising regular season campaign under 2015 Coach of the Year
Mike Budenholzer
, the
Atlanta Hawks
are determined to prove it was not a fluke. The Hawks overachieved by finishing with a magnificent 60-22 record, only to be swept in the
Eastern Conference Finals
by
LeBron James
and his
Cavaliers.
While fellow Eastern Conference competitors Washington Wizards, Chicago Bulls and Toronto Raptors all have made strives to improve their roster this year, the Hawks have arguably taken a step backwards. While new general manager Wes Wilcox achieved his top priority in retaining the presence of Paul Millsap for another three years, they failed to bring back their invaluable swingman Demarre Carroll, who signed with the conference rival Raptors. More bad news for the Hawks is that Carroll's most logical replacement, Thabo Sefolosha, is still recovering from a broken tibia and Mike Scott is facing up to 25 years in prison for drug charges.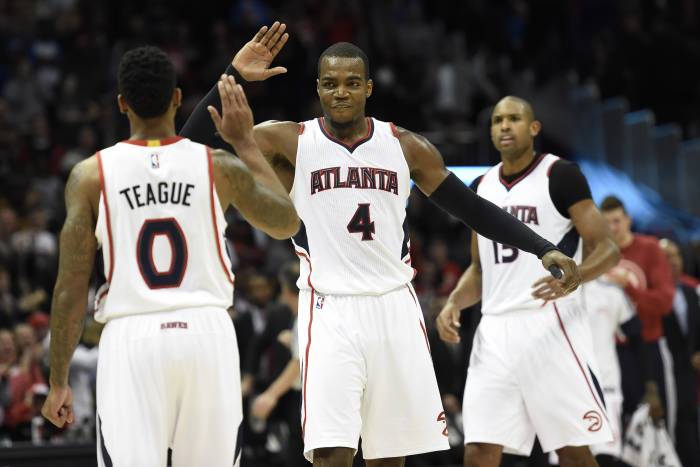 Graphic via hiphopsince1987
Come opening night, Mike Budenholzer is entering his third year as a head coach and his offensive brilliance was successful because of his team's unselfishness and ball movement. Hence, the potential negative impacts of losing one player can potentially be minimized. It's important to remember that the Hawks have four reigning Eastern Conference All-Stars in Jeff Teague, Paul Millsap, Kyle Korver and Al Horford. Promising guards Dennis Schröder and Tim Hardaway Jr. will be just 22 and 23 years old and the addition of Tiago Splitter gives the Hawks a solid bench player who has legitimate championship experience.
The Atlanta Hawks schedule has them slated for a rematch of the Eastern Conference Finals on November 21st, when the Cavaliers will head to Philips Arena. This will be a test of how the loss of Demarre Carroll truly affects the Hawks, as the only guy who could somewhat limit LeBron in the Eastern Conference Finals is gone. As previously mentioned, even though Sefolosha doesn't possess anywhere near the offensive ability of Carroll, he had formerly been well known for his ball-stopping abilities. It remains to be seen how his health remains going forward, as he could be the x-factor in this game. Jeff Teague and Paul Millsap will likely be in for a difficult task as well, as returning stars Kyrie Irving and Kevin Love will be new threats.
It will be an interesting too see how the Hawks shape up this season as many experts have concluded that they overachieved and peaked too soon. An intricate cog in the Hawks success is due to their big man in the middle. Al Horford has the vision to run their offense from the high post and was instrumental in creating open three-point looks that the Hawks thrived off of. The big question is his ability to remain healthy all season long, especially with the Atlanta Hawks schedule having them set to play 17 games in all of November.
Graphic via rukkus