The
Boston Celtics
are all but set to usher in the 2015-2016 season after a bizarre offseason at the hands of GM Danny Ainge that saw them bring in a ton of new faces. After being swept at the hands of
LeBron James
and company, the Celtics added three fresh prospects in
Terry Rozier
,
R.J. Hunter
and Jordan Mickey. Though they didn't end up finalizing a blockbuster trade and adding the superstar piece as they had hoped, their promising and youthful core boasts a year extra of growth and battle-tested playoff experience.
After finishing 40-42 last year, the Boston Celtics schedule once again looks to have the advantage of playing not only in the weaker Eastern Conference, but also the pitiful Atlantic division. While the
Toronto Raptors
were a regular season force to be reckoned with last year, four guaranteed games against the lowly
New York Knicks
, Philadelphia 76ers and Brooklyn Nets looks to once again help Boston's playoff hopes. Combined, those three teams finished with a 73-173 record to end the 2014-2015 campaign. Fortunately for Brad Stevens and his troops, the Celtics kick the season off on October 28
th
against the docile 76ers.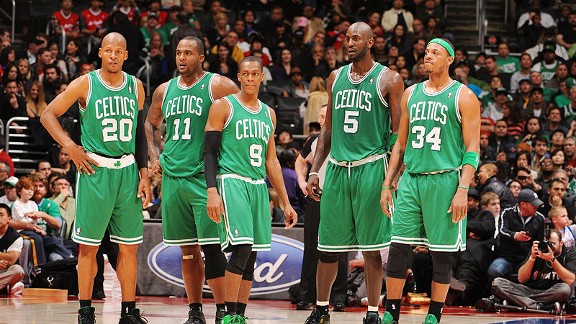 Graphic via 

snipview
At the same time, this offseason has seen a small influx of overall talent and depth in the Eastern Conference compared to previous seasons. Come October, the weaker of the two conferences have a new bunch of teams that will be fighting for those last three playoff spots. The D-Wade led Miami Heat look to return postseason play back to South Beach, while young teams like the Bobcats and Pistons want their promising cores to gain some valuable experience come April. Add to that the fact that both of New York's squads are under heavy pressure and criticism to succeed now, and you have what is shaping up to me a dogfight for the 6, 7 and 8 seeds.
However the Boston Celtics, who captured last year's seventh slot, look to be a favorite to make one of the final playoff spots. Although the Cs were no trouble for the eventual Eastern Conference champion Cavs, there was notable experience gained in the process for their youngsters. Promising two-way guard Marcus Smart is heading into his sophomore campaign and judging by his summer league play, looks well enough equipped to handle an increased role in team play. Core pieces like Isaiah Thomas, Kelly Olynyk, Avery Bradley and Evan Turner have another notch of experience under their belt. While solid acquisitions of former All-Star David Lee and fighter Amir Johnson were snagged to help the overall cause.
If their core can build off of last year's accomplishments and once again lead them to a playoff birth, then Bean-town's season should be viewed as a success. We will see how much the men in green have come since last year in their three match-ups against the Cavs. The first December 17th meeting comes well into the season at a time when both teams should be clicking in mid-season form. The Celtics should have the mental edge as it's always more personal facing the team that knocked you out, however they don't have anyone who has shown he can slow down LeBron James one bit. It will also be interesting to see a Kevin Love-Kelly Olynyk match-up in the works again after a "bush league" play in last year's playoff series. If the Celtics want to gain traction on the East's elite, they're going to need to start proving themselves as a legitimate force. The now healthy Cavs present this opportunity with two more meetings coming on February 5th and March 5th. Ultimately the chase for one of the final playoff spots is theirs to lose.
Graphic via ftw