The Buffalo Sabres were the doormats of the NHL in the 2014-2015 season. With just 23 wins they had the smallest win total in the entire league. Buffalo fell to the second pick of the draft and selected Jack Eichel, who they hope can start to turn around their fortunes in 2015. A team with such few wins would classify any win as a big one, but the Buffalo Sabres schedule still has a few notable games on it. One intriguing game on the Buffalo Sabres schedule is a game in December against the Edmonton Oilers. The Oilers were also a poor team last season, but they were the team who ended up with the number one overall pick over Buffalo. They selected Connor McDavid, who the Sabres would have loved to have. It is hard to go wrong with either player though. The first ever matchup of McDavid and Eichel will be a very intriguing game. Those two players will have their names attached for the rest of their careers and this game will be more about this one particular matchup than the overall outcome.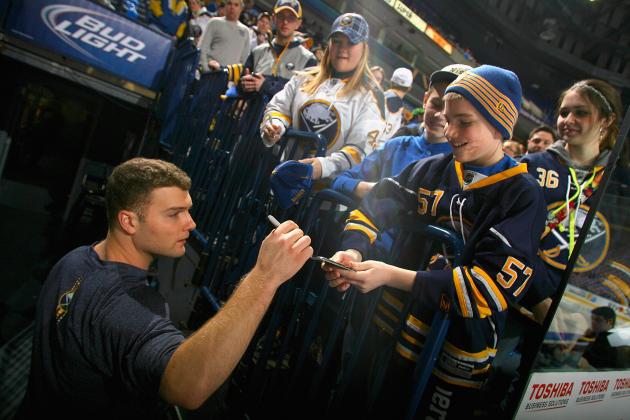 Graphic via bleacherreport
The Buffalo Sabres schedule starts out very challenging with games against the Islanders and the Lightning to start. They face the Lightning twice in their first four games with the second matchup being the Sabres first nationally televised game of the season. We will find out right away just how ready Jack Eichel is for the NHL. In December Buffalo will get their first shot at the defending champions as they host the Blackhawks for a Saturday afternoon matchup. It is not until January when Buffalo earns their next nationally televised game. January 25th they face the New York Rangers on the road. The Sabres are still a young team and far from a playoff team. A good test for them will be against teams such Toronto, Carolina and New Jersey. In March, a back to back with the Hurricanes and the Maple Leafs will show if they have improved over the course of the season. It is teams such as those that were slightly ahead of them last year that will provide a good litmus test to their progress. With the high selection in the draft Buffalo will be looking to move out of last place in their conference. Overall, the Buffalo Sabres schedule is pretty well balanced. They play a steady dose of former playoff teams and teams that struggled last year without too many in a row of either. Jack Eichel should be enough of a spark to earn them a few more victories than a year ago but they will be a team that is attempting to develop for the future.
Graphic via hookedonhockeymagazine