The Carolina Hurricanes were one of only four teams in the eastern conference to finish the season with a losing record. They struggled through the 2014 season and finished 14th overall in the east. Carolina did manage a better than .500 record at home but finished as one of the worst teams in the NHL. The Hurricanes schedule begins with a wakeup call as they head out on a seven game road journey within the first few weeks of the season. The Hurricanes managed just 12 road wins last year and will be tested on the road early on in 2015. The road trip starts out in Detroit and comes full circle back to Detroit before ending in New York against the Islanders. The road trip will be the ultimate challenge for the Hurricanes, but it does come with a silver lining as Carolina heads back home for 9 of their next 10 games. It is an unlikely swing that few teams go through in the NHL. The Hurricanes do have some winnable contests during that stretch and if they want to pick up some victories early on, that would be the best time to do so.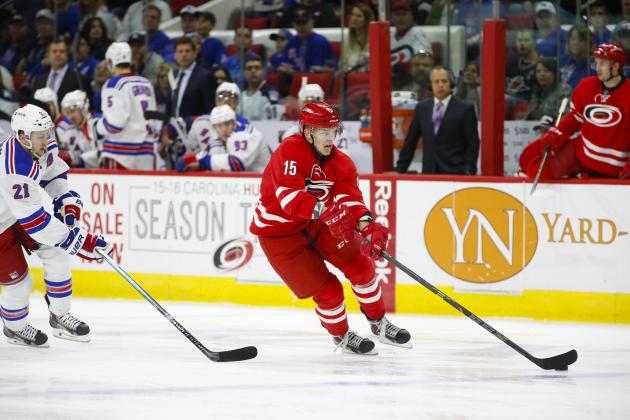 Graphic via bleacherreport
As they move into the second half of the season, the Hurricanes schedule avoids long road trips until the middle of March. During that time they hit their second longest road trip of the season with a five game trip that features three playoff teams from a year ago. Really the Hurricanes schedule does not provide many home games towards the end of the year. They do not have a home stand longer than two games in the last couple of months in the season. Their competition is not the stiffest compared to other teams around the league but they did not get the benefit of home ice as often as they would like. Overall, it is hard to the Hurricanes making much of a jump next season. They are lacking in talent and will most likely struggle to creep out of the bottom part of the eastern conference. The Hurricanes schedule also does not do them many favors when it comes to picking up victories or going on winning streaks. They are a team that will need to make some more moves in order to become a playoff contender in the future. A good goal for the Hurricanes this upcoming season would be improving their play on the road. They have a few tough road trips in their schedule that could help build some character and momentum as they go through the season. If they can find some success early on they may be able to surprise a few people and move up in the standings.
Graphic via cardiaccane