There are five teams in the American League Central Division, including the Cleveland Indians. Sadly, for the squad from Ohio, their won-loss record of 48-54 has them planted firmly in last place, a whopping fifteen games behind the front-running Kansas City Royals.
With only sixty games remaining to be played and several teams above them in the standings, a run at the Kansas City Royals seems unlikely. Realistically, there is virtually no chance for the Indians to catch the Royals.
But all is not lost for this young group. While they currently have a losing record, the Cleveland Indians schedule includes series against the Minnesota Twins, the Chicago White Sox and the Kansas City Royals. As a result, they still have a good chance of winning one of the two Wild Cards and entry into postseason play.
It won't be easy, but it can be done. The Cleveland Indians schedule has them playing home games against the Minnesota Twins on August 7 – August 9 and again on 9-28 through 9-30. These are critically important games because winning both of these 3-game series can get Cleveland closer to the rival Twins in the standings, perhaps even enable them to pass the club from Minneapolis.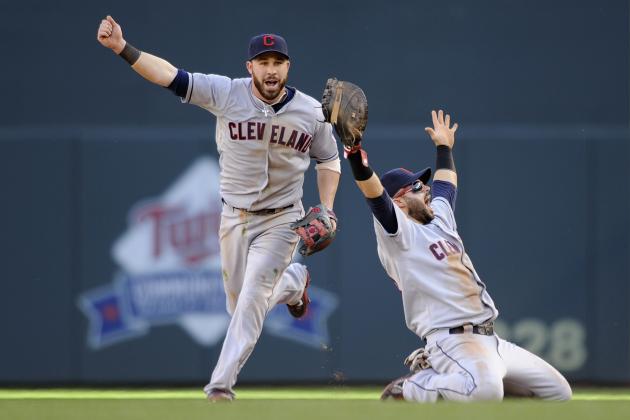 Graphic via bleacherreport
There are more important series to be played at home. The Cleveland Indians Schedule has them "locking horns"  with the second place Chicago White Sox on September 28 – September 30 and against the first place (by a significant margin) Kansas City Royals on September 14 through September 17.
Solid performances against all of these rivals could make the last week of September very exciting in this competitive division. And because Cleveland plays well at home, there is every reason to believe that they can draw closer to the teams above them in the standings.
It is the road games in the Cleveland Indians Schedule that may sabotage this hungry squad's desire to make it to the postseason. They have to travel to Chicago to do battle with the home team White Sox  for three games beginning on September 7th and ending on September 9th.
The Cleveland Indians Schedule also sends them to Missouri to take on the powerful Royals on September 25th, September 26th and September 27th.
And if all that were not enough, the Cleveland Indians Schedule also offers up two three game series in Minneapolis against the Minnesota Twins. Those series will take place August 14 – August 16 and September 22 – September 23.
The deck seems to be stacked against this hungry-for-success team from Ohio – too many tough games to play – too little time to make up enough ground. And it gets worse.
The Cleveland Indians Schedule outside the division includes games against the tough Bronx Bombers.
Graphic via cleveland