One might not think of
Toledo University
as being a
college football powerhouse
, but the fan support coupled with a more than respectable on the field product in years past, have combined to make this a hot ticket indeed.
The Glass Bowl Stadium
is home to the Toledo Rockets football team. It is an aging stadium, first opened in 1937, but the university has worked hard through the decades to constantly keep up with the times, providing regular upgrades and renovations as needed. The stadium currently seats just over 26,000 fans when filled to capacity.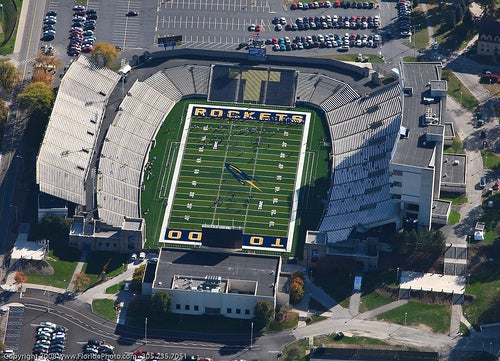 Graphic via 

247sports
Toledo plays in the MAC Conference, which in recent years has really elevated its game to the point that they are giving the big conferences something to fear when they come to town. The team actually began play way back in 1917, making them one of the most tenured members of the MAC. They have 10 conference championships, including in 2001 and 2004. They are located just of I-75 and have a long standing and great rivalry with the Bowling Green Falcons, making that game one of the most sought after tickets in the region. The atmosphere at the Glass Bowl is a great place to watch college football. The Glass Bowl is a great place to catch a college football game. The University of Toledo has done a fantastic job of merging the old with the new. The Glass Bowl has a north-south orientation with a horseshoe seating area, opening at the north end. All seating is aluminum benches with the band and students sitting in the south end.
The west grandstand features the press box and luxury boxes in a three-tier complex above the seating bowl similar to many college stadiums.
The entire stadium is surrounded by a beautiful stone wall made from irregular stones with sharp vertical stones at the top. It gives the stadium a fort-like feel. The north opening also features two large, square ramparts continuing with the fort feel. The beautiful stonework features what may have at one time been windows, that are now covered with pictures of Rocket Legends. The legends include players who have had their numbers retired including Mel Long, Mel Triplett, Gene Swisk and Chuck Ealey. Legends also include newer Rocket players including Chester Taylor and Bruce Gradkowski. On the facia of the luxury boxes, the retired numbers of the Rockets are featured, as well as the 10 conference championship years. When game time arrives, the Rocket Marching Band marches towards the stadium and enters. They perform as most band do, forming various icons on the field while playing songs including the Toledo fight song. The team enters the stadium from the north end through smoke and cannon fire. When the Rockets score, be ready as the cannon will fire again! The in-game experience is fantastic and well worth the trip.
In short, is a great venue, with great fans, and will certainly be a great experience for any fan of college football.
Graphic via wikipedia