The
Marshall Thundering Herd
is one of the best stories in college football. If you saw the movies "We Are Marshall" then you know all about it. If you didn't, then go find a copy and watch it. After watching it you will immediately become a fan of the Thundering Herd.
Joan C Edwards Stadium on the Marshall campus might be the only college of professional football stadium in the country named after a woman. That's just one more thing that makes Marshall unique. It seats over 38,000 green clad Herd fans on fall Saturdays doing the "We are…MARSHALL!!" chant at the top of their lungs and cheering on the Marshall football team.
Marshall has been a great program in the past, producing several NFL players such as
Randy Moss
, who might be the best receiver the game has ever seen not named Jerry Rice. A couple of Herd quarterbacks were NFL starters,
Chad Pennington
and
Byron Leftwich
. Last year's quarterback
Rakeem Cato
might be the next to join the list. He is currently trying to make the roster of the Cleveland Browns after throwing a touchdown pass in an NCAA record 46 consecutive games for the Herd.
Going to a game at
Joan C Edwards Stadium
is proof that it is easy being green. The Huntington campus is a sea of green on game day as the faithful tailgate outside the stadium. The smell of kettle corn fills the air as you approach Joan C Edwards Stadium, making you hungry even though you may have just finished breakfast.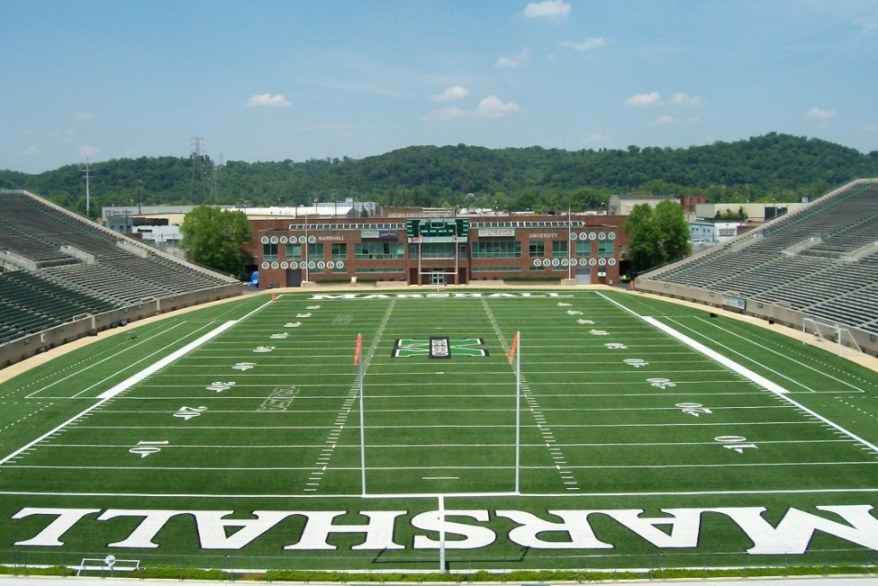 Graphic via skyscrapercity.com
While tailgating, you will want to check out the memorial next to the stadium commemorating the 1970 plane crash that took the lives of most of the football team. The program nearly ended on that day, but thankfully it was revived with the help of a lot of walk-on players that took a lot of beatings, but kept the program going.
When you go to a Marshall game at Joan C Edwards Stadium, you will see why the crowd feels more like a family than in any other college game. These people literally saw their program turn tragedy into triumph, rising from the ashes of the crash to claim two 1-AA National Championships in the 1990s. We are…Marshall!" is not just a cheer. It is a reminder. It is remembering the people who died and what it took to get back.
When you go to the game, you will want to bring a seat cushion or stadium chair. The stadium is old school with aluminum benches. While there, enjoy a cheesesteak, or Italian sausage, a hot dog, pretzel or some of that delicious kettle corn made right their at the stadium. Cheer on the Herd as they take on Conference USA and get to one of the college football bowls again this season.
Enjoy the Marshall marching band during pre-game and at halftime and watch the replays on one of two giant video boards located in each end zone. If you love college football then Huntington, West Virginia is your kind of place. Make your plans to visit Joan C Edwards stadium today!
Graphic via bowlsubdivision