In Ruston, Louisiana they have a college football stadium,
Joe Aillet Stadium
, which holds 30,000 screaming Bulldog fans on fall Saturdays. If you've never been to Louisiana in the fall for college football, then you do not know what you're missing. There is no tailgate party like a Louisiana tailgate party.
Joe Aillet Stadium opened in 1968 with 23,000 seats. It has since added a huge video board and 7,000 more seats and also installed field turf in 2007. The student section is always packed and the alumni also turn out in droves to make Joe Aillet Stadium a fun experience for any football fan.
Skip Holtz, son of legendary coach
Lou Holtz
, coaches the Bulldogs. They play in Conference USA which means teams like
Southern Miss
,
Marshall
, Florida Atlantic, Florida International and Texas El-Paso will visit Joe C Aillet Stadium. These are some of the best up-and-coming programs in the nation. C-USA always provides entertaining football. Some of the former C-USA teams include some of the best programs in college football such as
TCU
,
UCF
,
USF
,
Louisville
, and others.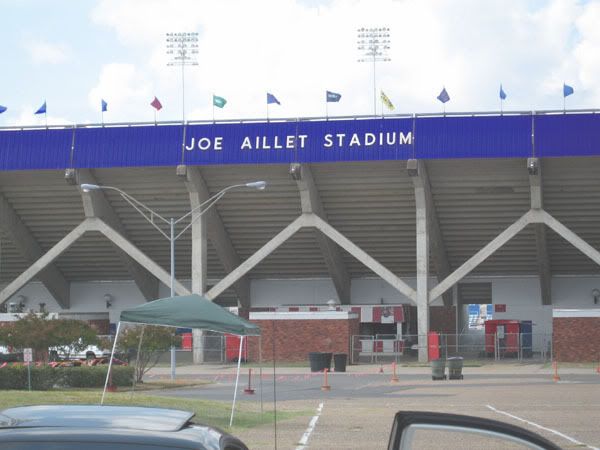 Graphic via 

latechbbb
Last year's Bulldogs team played in the Heart of Dallas Bowl where they beat the University of Illinois of the powerful Big Ten Conference 35-18. The team ended the season 9-5 with a 7-1 C-USA record. They lost to Marshall in the C-USA Championship game 26-23. This season's team figures to contend for the conference championship.
Some of the Bulldog greats include four-time Super Bowl winning quarterback Terry Bradshaw and also Phil Robertson of Duck Dynasty fame who played quarterback for the Bulldogs as well. Luke McCown, Josh Scobee, Fred Dean, and Willie Roaf are among Bulldogs who have gone on to the NFL. Who among this year's team is headed for the league? Come to Joe Aillet Stadium and find out.
A Saturday in Ruston is a great place for college football fans to bring the kids and enjoy the day. Parking is readily available and plenty of tailgating exists all around the campus. If you want to eat at a restaurant, the Dawg House is a popular spot where you can grab a burger or their signature Paw Claw's, chicken fingers dipped in your choice of three different sauces.
Bring your seat cushions and stadium seats, pack up the kids and bring them to Joe Aillet Stadium for a game this fall. Your choices for games this season include Southern U, FIU, the Ragin Cajuns (this will be a hot ticket), Middle Tennessee, North Texas and Southern Miss.
Coach Holtz will have the team ready for another run at making it to a bowl game in 2015. The enthusiasm of the students and alumni make a trip to a Bulldogs game a great event for the whole family, or you and your football loving buddies. Go see a game at Joe Aillet Stadium this season.
Graphic via latechsports