The Detroit Red Wings earned the sixth seed in the Eastern Conference last season and drew a tough first round matchup with the Tampa Bay Lightning. The Lightning ended up representing the Eastern Conference in the Stanley Cup Finals. Detroit was their stiffest competition and gave them a great first round series that went 7 games. The Red Wings go into the 2015 season with a new head coach and hopefully another shot at making a run through the playoffs.
The Detroit Red Wings schedule opens up with a game against the Toronto Maple Leafs. Toronto had a less than stellar season last year, but this game will be intriguing due to the fact that Detroit will be going up against their old head coach, who accepted the job in Toronto this offseason. Just two games later the Red Wings will be on NBC for a game against their first round foes, Tampa Bay. Detroit actually had the 3-2 advantage in that series before their offense abandoned them in the final two games. The Red Wings finish the opening month of the season with back to back games against the Ottawa Senators to close a pretty difficult month of hockey.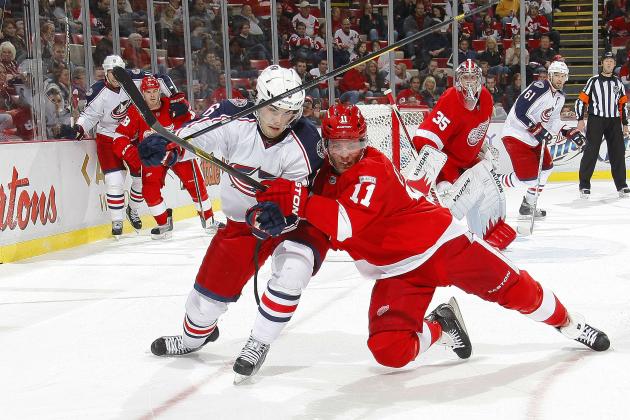 Graphic via bleacherreport
The second month of the Detroit Red Wings schedule opens up just as challenging as they face the Lightning and the Capitals in two of their first four games. Really it is not until the holiday season when the Red Wings schedule slows down a bit. Luckily for them, the second half of the season is not quite as bad as the first. In January they face a lot of the lesser teams in the NHL. Their big game of the month is a Wednesday night game on NBC against the Blues. The Detroit Red Wings schedule ends well in their favor as they have an easy month of April aside from one game against the Rangers, who were the number one seed in the east last year. That game is the season finale for Detroit and should be used to get them ready for the postseason. It will be imperative for the Red Wings to get into the upper half of the conference in 2015 to avoid the likes of New York, Tampa Bay, etc. in the first round of the playoffs once again. Detroit has the talent to be a top four team but they fell just a little short last year. The Detroit Red Wings schedule ends nicely, which should give them a shot to move up the standings late in the year. They will have the bad taste of a first round exit to motivate them throughout the entire 2015-2016 regular season.
Graphic via usatoday