Pittsburgh has always been "football crazy." The NFL's Steelers call this mostly working-class city home. And they are perennial winners, a team that is easy to love.
The Pittsburgh Pirates, the city's Major League baseball franchise, have always played second fiddle to the "top dog" Steelers. That has been especially true over the past twenty or so years. During the last two decades, the Steelers won and played postseason football frequently while the Pirates were an almost permanent fixture in the second division, often a basement dweller.
There is a benefit for continuous poor play on the field. It is high draft choices. The mediocre Pirates have had many very high draft picks in recent years. As a result, it was inevitable that some of their selections would pan out.
Andrew McCutchen is one very good pick. And Gerrit Cole, the team's young starter – and a true ace – deserves to be considered a successful choice, too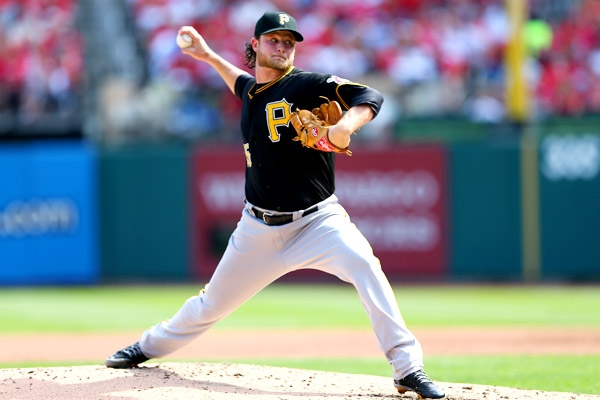 Graphic via blackandgoldworld
Selected by the Pirates in the first round in 2011, the UCLA graduate brought high expectations with him to the mound when he made his first Major League start in 2013. It went well. And so did the season for this young and talented hurler.
The first year starter completed his rookie season with a won-loss record of 10-7. His Earned Run Average (ERA) was an impressive 3.22. And this powerful right-hander fanned one hundred batters in just 117.1 innings of work. Importantly, he issued just twenty-eight bases on balls, marking him as a solid and reliable control pitcher.
2014 brought Cole more success. His won-loss record improved to 11-5 while his Earned Run Average rose slightly to a still very respectable 3.65. Cole struck out 138 batters while walking only forty, great numbers for a pitcher of any age.
2015 has turned out to be a breakthrough year for Gerrit Cole. He represented his team in the All Star game and with about one hundred games played to date his won-loss record is a dazzling 14-4. In fact, he leads the National League in wins and has already surpassed his win total from 2014.
And Cole has accomplished even more this season. His Earned Run Average stands at a career best 2.34. He has already fanned 130 batters in 132.1 innings. And as for walks … he has issued a mere twenty-eight.
At the tender age of 24 (he will turn 25 before the season ends) Cole is one of the best pitchers in baseball. In his brief career he has struck out 365 batters, sports a record of 35-16 and appears to be headed for greatness.
And if you root for the Pittsburgh Pirates, here's the best news. Cole is still on a low-paying (for baseball) rookie contract and cannot become a free agent until 2020, five years from now.
For the Pittsburgh Pirates and their loyal fan base, it simply can't get any better than that.
Graphic via espn