The defending super bowl champion New England Patriots could be in for a rocky start to the 2015 season. On paper the Patriots have dropped off a little on defense with the losses of Brandon Browner and Darrelle Revis. While they have dropped off a little, the rest of their division has been improving. Realistically, they should still be the best team in the division, but their main issue is that they may start the season without the one and only Tom Brady. Brady will be appealing his four game suspension but if he is unsuccessful he may have to pull the Patriots out of a hole when he returns. Without Brady, the Patriots could easily be 1-3 in their first four games. While they would likely still defeat Jacksonville, games against Pittsburgh, Dallas, and Buffalo would be challenging. Without Brady it is hard to imagine them keeping up on offense with Pittsburgh or Dallas. They could beat Buffalo but their offense may have a hard time scoring much at all against the Rex Ryan defense.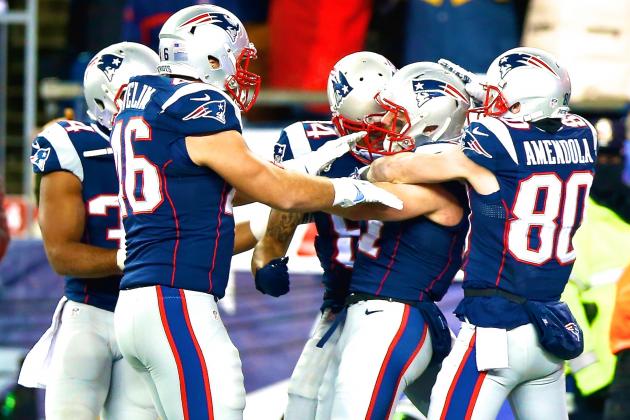 Graphic via bleacherreport
Things will not be any easier when Brady gets back as he will be thrown right into the fire with games against the Colts and the Jets. Tom better be ready to perform right away in order to keep up with Andrew Luck and the high scoring Colts offense. Also, while the Jets no longer have Rex Ryan, they do have one of the best defenses in the NFL on paper. The Patriots could be in trouble in a hurry this year but it is hard to fathom them missing the playoffs. If anyone can dig them out of a hole it would be Tom Brady.
They do have some winnable games during the second half of the season against Washington, New York Giants, Houston, Tennessee, and Philadelphia. They will have a chance to play themselves back into playoff contention. Also, while the margin of error in the division has narrowed, New England will still have a good chance at winning the division. They will have Brady for 5 of the 6 divisional games and the quarterback position is still where they have the biggest glaring advantage. Buffalo and New York are great on defense but they both lack a capable quarterback. Miami is decent on both sides of the ball but they have yet to show they can win the big games down the stretch of the regular season.
Overall, the second half of the New England Patriots schedule is favorable for the Patriots and Tom Brady is likely to be in rhythm by then. He is also upset with his suspension and will be a mission to destroy the NFL. Look for the Patriots to be back in the mix for yet another super bowl.
Graphic via latestonsports