If we were to poll the readers and ask who the top five players in the Majors are, we would likely get a lot of answers like Trout, Harper, Kershaw, Bumgarner, and maybe even some players such as Stanton, Bautista, Posey, and Pujols. We might even get A-Rod or Goldschmidt in there too. But how many would list Yadier Molina?
Consider the fact that since Yadier Molina took over as the catcher of the St. Louis Cardinals, they have been in contention for the World Series every season. They lost one of baseball's greatest players in Albert Pujols and never missed a beat. Why is this? One of the major reason is the Cards have one of baseball's best catchers.
There is a reason many managers and pitching coaches are former catchers. A catcher has to be the one who knows his pitchers and what they can throw and cannot throw. He must know the opposing hitters and what they can hit and cannot hit. He has to shut down the opposing running game which not only requires a strong and accurate arm, but also knowing how to keep his team's signs a secret from opposing baserunners.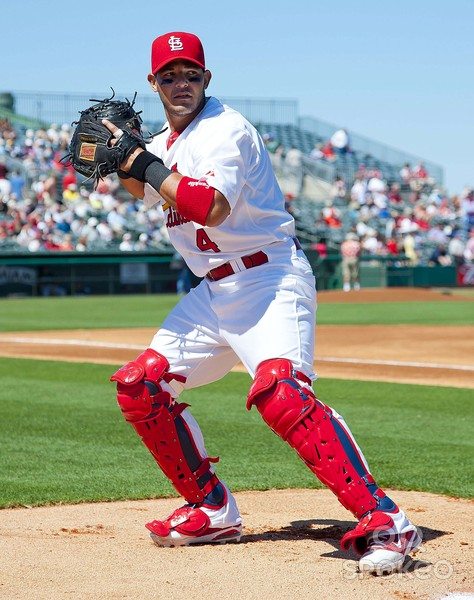 Graphic via fabwags
In other words, stats tell only a fraction of the story when comparing how valuable to a team a catcher is compared to a player at another position. A catcher can win a team a lot of games whether he gets a hit or not.
But not only is Molina one of the best in calling a game, knowing his pitching staff, knowing the other team's hitters, etc. He is also a pretty good hitter.
How do we know how good of a catcher Molina is? Look at how good the Cardinals pitchers are. Many of these guys were never heard of before coming in and pitching very well for St. Louis. In Molina's days with the Cards, have they ever had a talent such as a Kershaw or a Hernandez? Not really. But they always seem to be in the postseason.
Molina is a career .284 hitter. He has once hit more than 15 homers in a season when he hit 22 in 2012. His career high in RBIs is 80 which he got in 2013. This season he has 2 homers and 38 RBIs. Those numbers, especially this year's, won't knock anyone's socks off. But consider that with only two homers and 38 RBIs he still played in his seventh All-Star Game this year. That is because his team is about 30 games over .500 and have the best record in baseball.
That is in no small part to Molina. He began his career with the Cardinals in 2004. Since that time they have been to the World Series three times, winning two. That is not a coincidence.
Other than Adam Wainwright, can anyone name a Cardinals pitcher who started a game in the 2006 World Series? Not without looking it up. How about the 2011 World Series? Even that would be difficult without the internet. But yet they won the World Series in both of those seasons. That is Yadier Molina.
If the truth be told, he is probably the Most Valuable Player in the National League. Of course, he won't win the award. He likely won't even get any votes. But where this will show up is after he retires and the Cardinals have to replace him. We will probably see a drop-off in the Cardinals won-loss record when that happens.
Yadier Molina is probably the one player that if he were to get injured would leave his team in the worst shape. He has thrown out 45% of opposing base stealers in his career and has also picked off 52 runners. Just the difference felt when opposing teams start stealing bases and getting better leads will result in the Cards pitchers giving up a few more runs per game. It's not just the 45% he throws out, but how many runners just stay put that will steal on a different catcher?
Plus, Molina hits in the big moments. Remember it was his bat that put the Cardinals in the World Series when they beat the New York Mets in Game Seven of the NLCS in 2006. If not for Molina, Endy Chavez would be Ron Swoboda today.
If Molina does not get into the Hall of fame, then they should close the place down.
Graphic via espn