If the Washington Nationals play the San Francisco Giants in a regular season series, then they have a good chance of winning. However, if the match-up takes place during the playoffs, then it's a different story.
We all know what happened in the National League Divisional Series last year. Although the pundits picked the Nationals to win, the Giants took the series 3-1.
Since 2011, the two teams have played each other a total of 29 times including a three game series this year. The Nationals are 20-9.
Pitching
The Nationals seem to dominate because of pitching. The Giants can expect to see Max Scherzer, Gio Gonzalez, Doug Fister, and Jordan Zimmermann in the series. As of this writing, Stephen Strasburg is out with an injury. Expected to replace him if he can't play could be Joe Ross or Tanner Roark.
Record Vs. Giants (2012 – 2015)
Jordan Zimmermann 4-1
Gio Gonzalez 2-0
Stephen Strasburg 2-0
Tanner Roark 3-0
Doug Fister 1-1
Giant pitchers for the series are expected to be Madison Bumgarner, Ryan Vogelsong, Tim Hudson, and either Chris Heston or Tim Linecum.
Record Vs. Nationals (2012 – 2015)
Madison Bumgarner 1-4
Ryan Vogelsong 1-2
Tim Hudson 2-0
Tim Linecum 0-4
Hitting
So far this season the Nationals have been devastated by injuries. Jayson Werth, Ryan Zimmerman, and Anthony Rendon have appeared on the DL more days than they've played. Meanwhile, Yunel Escobar and Denard Span have been off and on the DL throughout the season.
With the regulars out the team has had to rely on rookie Michael A. Taylor as a replacement for Span; Clint Robinson and Tyler Moore, who are replacing Zimmerman; and Danny Espinoza, who's playing for Rendon.
Already this season, Espinoza has played first, second, and third base, shortstop, and left field because of injuries. Robinson has played left field, right field, and first base. Tyler Moore has temporarily handled left field and first base. Jose Lobaton is platooning with Wilson Ramos at catcher.
Bryce Harper has been having an MVP season for the Nats. As of July 22, he has hit 27 home runs, drove in 64 runs and has scored 62 times. His batting average is currently .332, his on-base percentage is .462, and his on-base plus slugging is 1.144.

Graphic via thenationalsarchive
Zimmerman, Werth, and Rendon have started playing rehab games in the minor leagues. It is not known when they will be reinstated to the roster.
Meanwhile, Giant catcher and All-Star Buster Posey has been having a great year and has been a one-man wrecking crew as far as the Nats is concerned. As of July 22, he's batting .318; and has 14 home runs and 66 RBIs.
Other top players for the team include Brandon Crawford and Joe Panik, both of whom were selected to the 2015 All-Star game.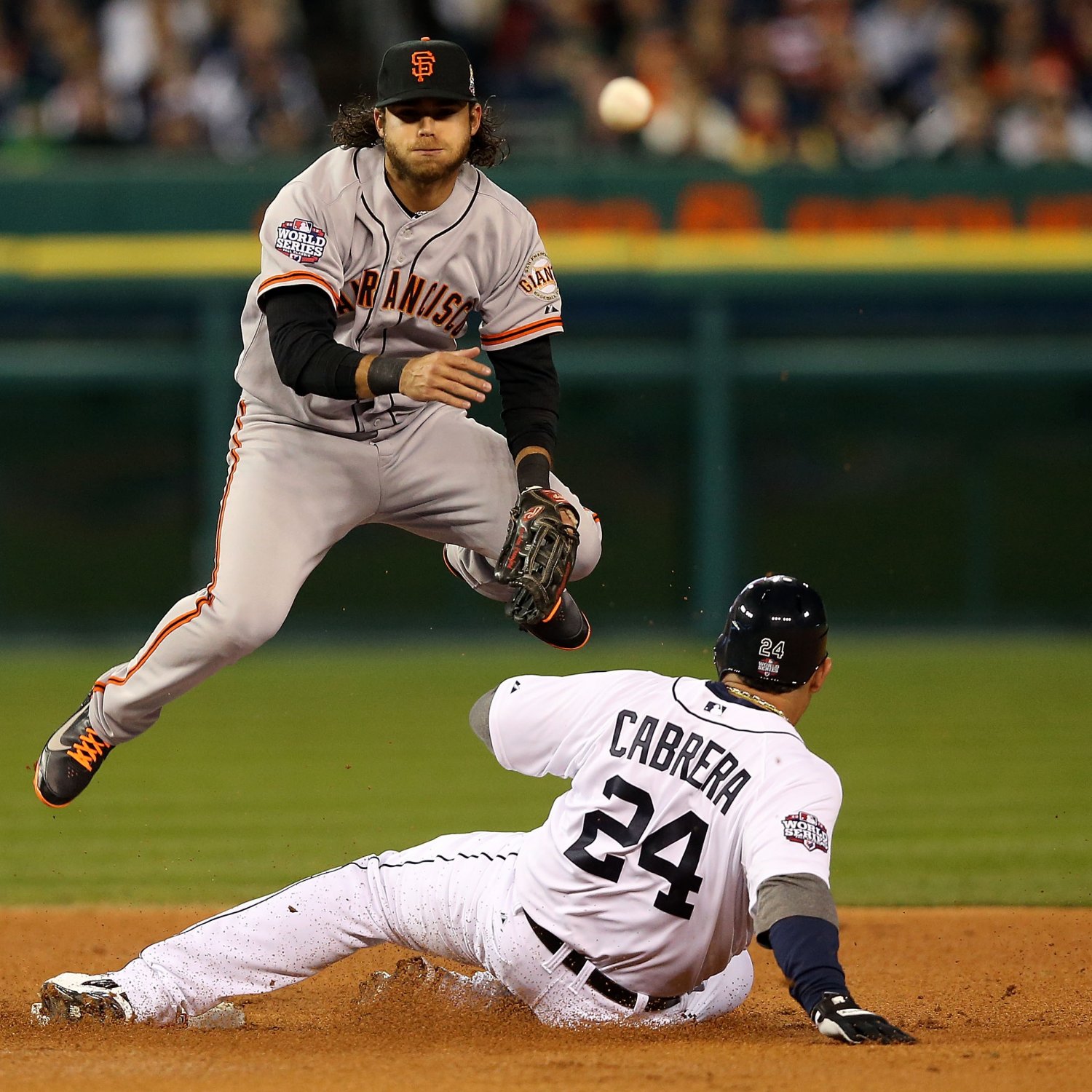 Graphic via bleacherreport
As of July 22, Crawford has a batting average of .266. His on-base percentage is .333 and his OPS sits at .810. He has hit 14 home runs, batted in 59 runs, and scored 46 times.
Panik has a batting average of .316. His on-base percentage is .383 and his OPS sits at .833. He's hit 7 home runs, knocked in 33 runs, and has scored 53 times.
The Nationals are in first place of the National League's Eastern Division with a record of 51-43 three games ahead of the New York Mets. The San Francisco Giants sit in second place in the National League's Western Division 3 games behind the Dodgers. Their record is 51-44.
Graphic via deadspin