When a team is stuck in mediocrity, or less than mediocrity even, they rarely make a buzz in the offseason. The Kings would definitely fall into that category having not finished better than 4th place in the Pacific in any of the past 9 seasons but surprisingly enough they were an integral part of the NBA draft and free agency moratorium period. Well, Sacramento was more recognized for what they didn't do, choosing to hold on to DeMarcus Cousins amid rumors that the 24-year-old phenom was all but locked in to a deal with the Lakers for the #2 pick.
Despite retaining Cousins the Kings will have a new look for 2015/16 as most NBA teams will. Here's a breakdown of Sacramento' major offseason moves in order of importance.
#1 Keeping DeMarcus Cousins
Say what you want about Cousins including that he's a malcontent, a coach-killer, or a supposed star player who will never lead a team to the playoffs – but you can't argue the fact that he's a guy who 24.1 PPG and 12.7 rebounds last year…as a 24-year old. As DeMarcus continues to mature he'll definitely play an important role if/when the Kings start to see prolonged success.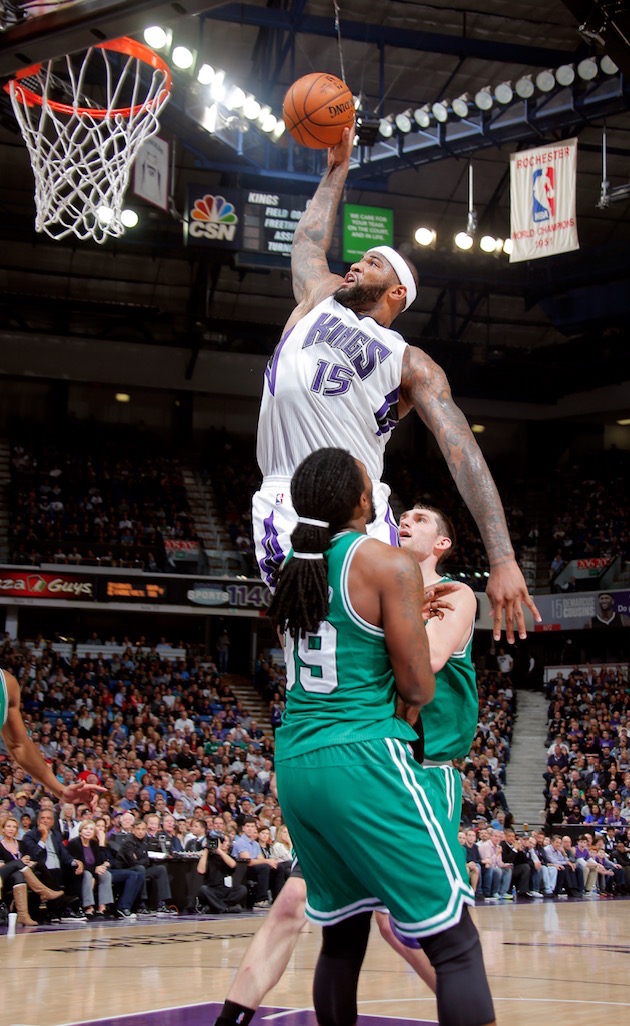 Graphic via bleacherreport
#2 The Signing of Rajon Rondo
If anything Sacramento is going to be fun to follow in the upcoming season whether that be for explosive play or explosive personalities. Joining Cousins and coach George Karl is the addition of Rajon Rondo, an enigmatic blend of an athletic point guard but also a problematic player who was exiled from the Dallas Mavericks before the end of last season. If Rondo can retain some of his Celtic form the signing will look like a steal for Sacramento at 1-year and $10 million.
#3 Drafting Willie Cauley-Stein
Sacramento boosted their interior presence with the drafting of Willie Cauley-Stein with the 6th pick in the NBA Draft. Cauley-Stein will pair with fellow Kentucky Wildcat alum Cousins to create one of the more intimidating pair of rim defenders in the league.

Graphic via grizzlybearblues
#4 Signing Kosta Koufos
In a conference full of penetrating guards such as Russell Westbrook, James Harden, Steph Curry, and Chris Paul you can never have enough rim protection which is why the Kings also added 7-footer Kosta Koufos via free agency. The 26-year-old is another legitimate big off the bench that can spell either Cousins or Cauley-Stein.
#5 Signing Marco Belinelli
So the Kings solidified their backcourt and ball handling with the addition of Rondo and bulked up on the front end with Cauley-Stein and Koufos. Seemingly the only other need would be for a wing to stretch opposing defenses with outside shooting. Insert Marco Belinelli who has shot 37% and 43% from deep the last 2 years while also bringing some valuable experience in winning from his time with the San Antonio Spurs.
#6 Trading Nik Stauskas
It's hard to give up on the 8th pick in the draft after only one season but the Kings shipped off 2014 1st rounder Nik Stauskas to Philadelphia in a move to dump cap space. Sacramento had their eyes on Wesley Matthews and Monta Ellis (both of which signed elsewhere) and it cost the Kings an athletic 21-year-old in doing so.
#7 Other Signings
The Kings added some veteran experience with the signing of Caron Butler while also bringing in some pedigree in Seth Curry (brother of Steph Curry) and extending David Stockton (son of John Stockton).
After a topsy-turvy offseason Sacramento has their roster in place. On paper their starting 5 seems playoff worthy with Rondo, Ben McLemore, Rudy Gay, Cauley-Stein, and Cousins with a somewhat deep bench including Belinelli, Butler, Koufos, Darren Collison, and Omri Casspi. Of course this isn't the first time Sacramento fans have been optimistic heading into a season, we'll see if George Karl makes this year different.
Graphic via bleacherreport