Free Agency Moves
After struggling to another disappointing season, the Edmonton Oilers extended their playoff drought to nine straight years. So, it was obviously important for the Oilers to try everything to get back to the postseason. And for Edmonton, that started with free agency.
With the defense and goaltending being the major weaknesses for the Oilers, this franchise went out and got players that they believe can make an impact at both of those positions. Adding Cam Talbot to anchor the net was a huge addition for this Edmonton squad considering that this team has been looking for consistency at that position for quite a while now. The Oilers also greatly beefed up their depth on the defensive unit, as Eric Gryba, Andrej Sekera, and Griffin Reinhart were all added to the fold.
All of those moves won't be game-changers for Edmonton overall, but this club got the biggest piece of the puzzle that it had been missing in Talbot.
Draft Selections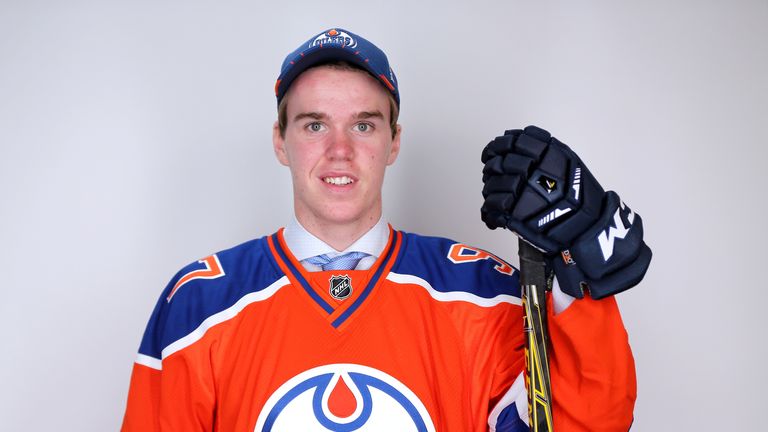 Graphic via skysports
There was no way that the Oilers could mess up their top overall selection in this year's NHL draft. Edmonton went with the easy pick of Connor McDavid in the first spot, and he is the type of player that can change the outlook of a franchise in an instant.
While the Oilers did have the No. 16 pick in the draft as well, they utilized that pick wisely in making the trade to add Reinhart to the defense. But of course, Edmonton didn't stop there and continued to make trades with picks before finally picking up nice additions in players like Caleb Jones and Ethan Bear.
The draft as a whole was a major success for Edmonton, and there's no doubt that getting McDavid in the top spot was the number one reason for that.
Coaching Changes
Not only did the Oilers have changes on the coaching front, but they also had it in the front office. Peter Chiarelli became the club's new General Manager, which was a great add for this Edmonton franchise given the fact that he helped lead the Boston Bruins to Stanley Cup success several years ago.
Chiarelli would eventually tab Todd McLellan as the franchise's new head boss, and from a success standpoint, there was nothing wrong with this move. McLellan experienced a lot of victories and triumphs with the San Jose Sharks in the seven seasons that he managed the club, and will certainly bring a lot of leadership to an Oilers team that desperately needs it in order to get back to the playoffs.
Looking Ahead to the Regular Season
Honestly, the Oilers had about as a successful of an off-season as you can have. They locked up a future star in McDavid that could completely turn this franchise around, and they also addressed weak areas in their defense.
It's highly unlikely that Edmonton will be a Stanley Cup contender come 2016, but should the moves that they made this off-season pan out like most expect them to, it may not be too far off before this team turns its playoff drought into a playoff streak.
And perhaps, if McDavid continues to progress at such a rapid rate, a Stanley Cup could be on the horizon much sooner than people think.
Graphic via oilers.nhl