One has to go back to the decade of the 80s to recall the last moment of Stanley Cup glory for the New York Islanders, but they have finally and slowly crept back into the mix.  The team has done this via a massive rebuilding effort that has them well positioned for the future.  They have loads of young talent, which was also their downfall last season of course.  The team appeared to lack leadership and lost focus towards the end of the previous campaign, struggling mightily in the second half of the season.  They did make it to a seventh game in their first round playoff matchup against the Capitals, but managed just 11 shots total in those three periods.  All of this means that the Islanders rightfully built themselves around a new, younger, and stronger team, but they will need to spend this offseason trying to attract some veteran leadership to come into the mix as well.
To this point, all indications are that Islanders management seems content to build on last year's mediocre success, and this is making long time fans a bit nervous.  The offseason to this point has seen few notable moves.  There is still time to rectify this situation, but they will need to get moving.  The Metropolitan Division is very tough, so the Islanders need to add a piece to both their offensive and defensive puzzles in order to make the leap to the top.  To this point, they have not really accomplished either. It appears that Garth Snow, the general manager for the Caps, is not willing to splash out the money needed to attract one or two veterans to the club, and this could spell doom once again come next April.
Since the offseason has not seen many moves for the Islanders to this point, let us focus on the positives.  The maturing process for the young players has been immense, putting them at the top of the NHL.  They have picked wisely in previous years, made some quality acquisitions, and that is now paying enormous dividends. They have a solid goaltender in Jaroslav Halak.  They do have two veteran forwards coming back in Mikhail Grabovski and Nikolay Kulemin.  These, and other factors, added a positive point tally of 22 to their total from the pervious season.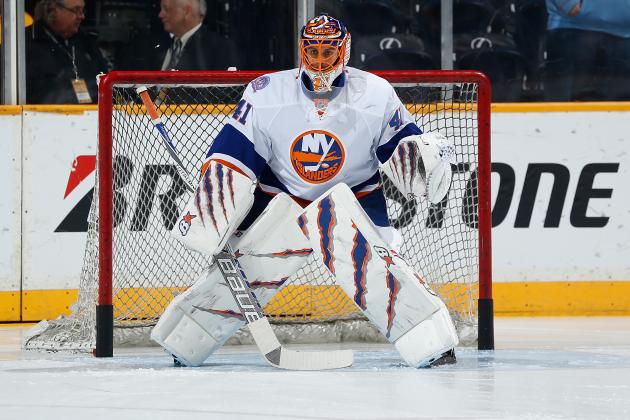 Graphic via bleacherreport
Question marks remain, however, in if the young players can lead the Islanders to the next level. In addition, many will be coming up for contract renewals soon, which will likely bring an exodus of sorts, so the team needs to begin bringing in some new talent now and getting them signed.  This offseason still has time, and many are calling for a few trades of those with money hogging contracts in order to make way for a quality signing or two before October rolls around.  If this takes place, then Islander fans will be even more hopeful that their club can make a deeper run into the playoffs come next spring.
Graphic via islanders.nhl