After 4 years of consistently mediocre, non-playoff football, New York Jets owner Woody Johnson cleaned house after the 2014 season ended. He terminated the team's ineffective General Manager, John Idzik and sent larger-than life Head Coach, Rex Ryan, packing.
These moves were necessary because Gang Green had really fallen on hard times in recent years, winning just four games in 2014. Of course, it was important for Johnson to replace Idzik and Ryan with quality hires. And by all accounts, that is exactly what he did.
New General Manager, Mike Maccagnan, an experienced talent evaluator, hit the ground running by making key trades and free agent acquisitions. He also had a great draft according to NFL pundits.
Johnson then hired Todd Bowles to be the team's new Head Coach. Bowles had been Defensive Coordinator for the Arizona Cardinals and his selection was well-received by NFL analysts and TV talking heads.
Of course, moves that look good on paper don't always work out well. However, with the start of the new NFL season just two months away, it appears that Maccagnan's busy offseason was first rate and will serve his team well when it starts playing games that count.
To begin, shortly after being hired, Maccagnan traded for a much needed number one wide receiver. And he struck gold. For the cost of a fifth round pick in the 2015 draft, the offensively-challenged Jets acquired Brandon Marshall.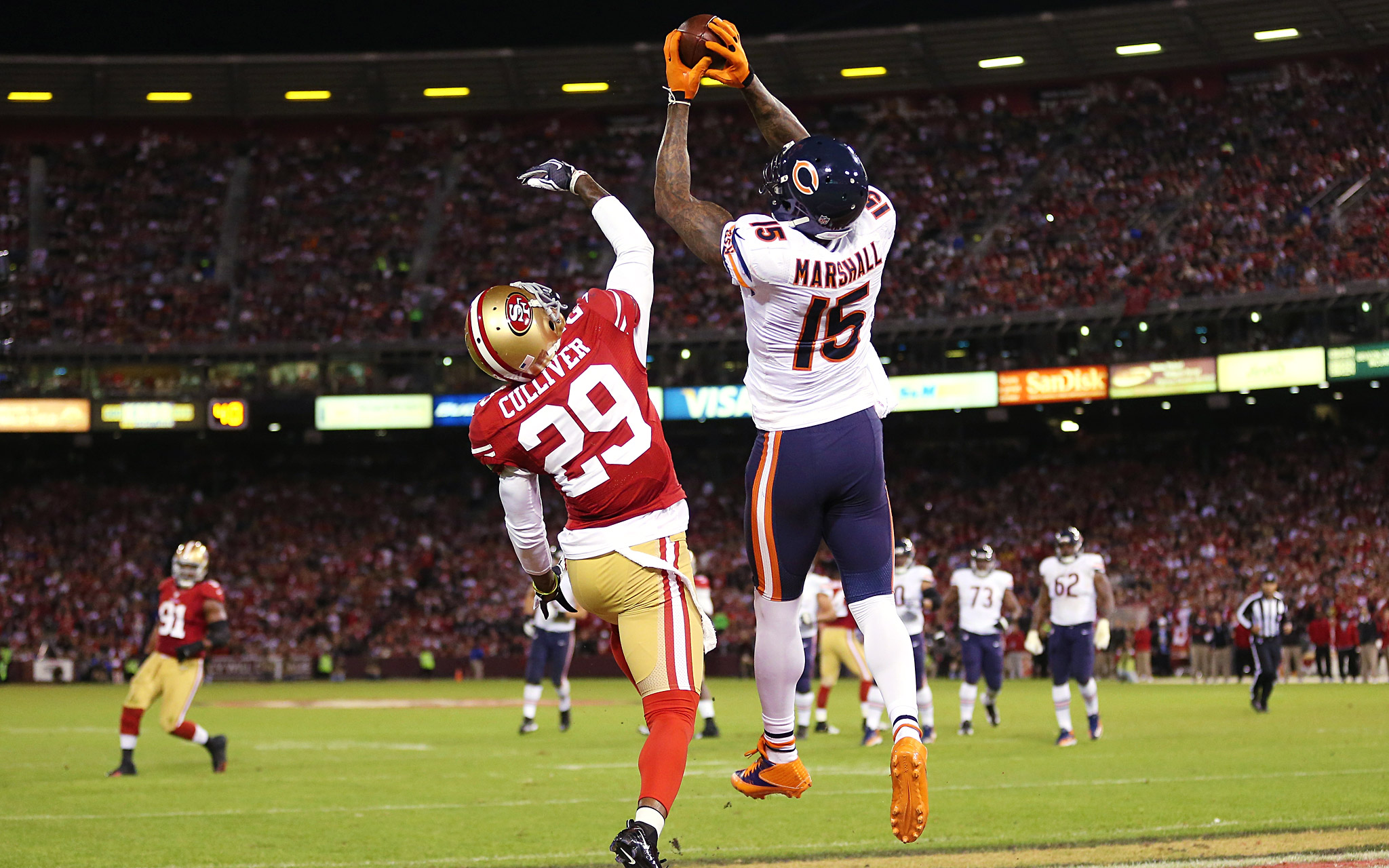 Graphic via imagefiesta
It's a tremendous pick-up for a team in dire need of a wide receiver that can stretch the field and help quarterback Geno Smith by providing a large and very dependable target.
That initial move, however, was just the first of many great decisions made by the Jets brain trust. Maccagnan quickly moved to fix another area of great need after Marshall signed his contract.
He picked up top free agents Darrelle Revis and Antonio Cromartie, two great cornerbacks and former Jets. He also signed free agent Buster Skrine, another superb cornerback and Marcus Gilchrist, a former starting safety for the San Diego Chargers.
These moves figure to give the Jets something they lacked last season – a shut down secondary.  And that will enable the team's powerful defensive line to harass and sack quarterbacks.
There was also one other need that the Jets had to address this past offseason – the offensive line. It needed more depth and another starter. Maccagnan filled that need by also signing James Carpenter, a player who had been a starting guard for the Seattle Seahawks.
As most Jets fans would say – so far, so good. But, there was also a draft in April. And with the sixth overall pick, Gang Green literally stole the player considered to be the top prospect and best overall player available. It is Leonard Williams, a huge, agile and quick defensive end from USC. In the second round, the team chose wide receiver Devin Smith, a lightning fast wide receiver with great hands and the ability to stretch defenses.
Third round pick Lorenzo Mauldin is a linebacker with great potential who could turn out to be the team's speed rusher. Add Bryce Petty, a quarterback from Baylor with incredible statistics and it's easy to see that the team from the Meadowlands is on the rise and may even surprise opponents and pundits with its performance in the upcoming season.
Jets fans will be able to get their first look at their "new" team when it plays its first two pre-season games in Detroit on August 13th and at home against Atlanta on August 21st. Of course, it is the rivalry game against the New York Giants on August 29th that will let fans know if 2015 is the year they get to scream Jets … Jets … Jets at every home game.
The guess here is that these "Jersey boys" will live up to the hype. Yes … Gang Green figures to win lots of games this year.
Graphic via rantsports