The Rangers
had an incredible run last year, finishing well atop the competitive Metropolitan Division and falling just one game short of making the Stanley Cup finals.  Perhaps this is why many Ranger fans were left in scratching their heads given the quick departure of Ryan O'Reilly, who will remain in the Metropolitan Division, but will be playing in a Sabres uniform next season.  With him leaving, coupled with Derek Stepan becoming a restricted free agent, many were left wondering if the Rangers would be taking an immediate step backwards.  That will need to wait until October to decide, of course, but the Rangers have certainly not been silent this offseason.  In fact, they have been one of the more active teams in the NHL that past month, aggressively pursuing a repeat of last years 113 points, and hopefully even going deeper into next years playoffs.
With the departure of O'Reilly, the Rangers have just a shade under $11 million dollars in salary cap space.  While that might sound like a lot, it really is not considering the number of quality of restricted free agents they need to deal with.  In addition to Stepan, there are Emerson Etem, JT Miller, and Jasper Fast.  Given the size of O'Reilly's contract given by the Sabres, it would appear that Stepan alone might command much of the money, if the Rangers opt to go that route.  And opt for just this objective they must.  Stepan is simply too quality of a player to let go.  As franchise player potential, he is rated higher than O'Reilly in nearly every offensive category, so some moves will need to be made in order to keep him and some of the other quality free agents in a Rangers uniform come this October.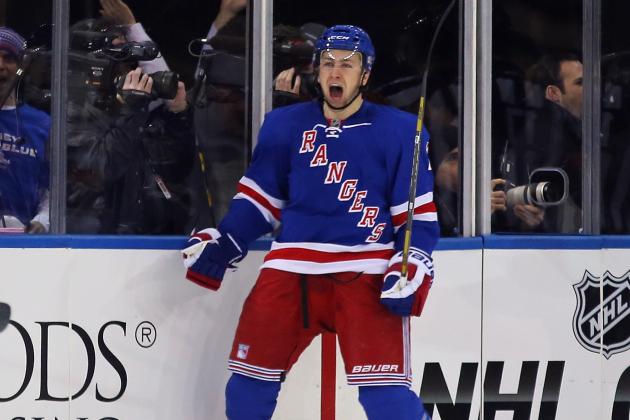 Graphic via bleacherreport
We suppose it is also fitting to mention that the Rangers are now operating under a new general manager.  Even with last year's success, they opted to make the change, but the new GM is Jeff Gorton, who is no stranger to the Rangers organization, being promoted from within. He has hit the ground running and has already made numerous moves that are solidifying a quality offseason for the team.  In addition to what has already been mentioned, however, some work remains to be done.  It is important to find a way to free up some much needed salary room, so some players need to be dealt.  The first priority appears to find someone to take over the final 2 years of Tanner Glass's contract, which would free up nearly $1.5 million that will surely be needed.  Another priority is to trade away Kevin Klein in exchange for only draft picks, which would save yet another $3 million.  The Rangers are player heavy, and this is causing them to nearly lose some of their more quality restricted free agents, so they must get this taken care of quickly.  If they can accomplish this core objective, keeping their core unit in tact, the Rangers are certainly well positioned to remain atop the Metropolitan Division in the coming year.  Beyond that, their playoffs run will likely depend on their ability to remain healthy and acquire some mid-season talent to put them over the top.
Graphic via rangers.nhl