The Portland Trail Blazers
are coming off of a 50 win season and a first round playoff exit to the Memphis Grizzlies. Things were looking pretty good in Portland, but after a disastrous offseason, the Blazers had to suddenly start rebuilding all over again. Everything changed when free agent forward LaMarcus Aldridge decided his days in Portland were over. He signed with the San Antonio Spurs and the dynamic duo of Aldridge and Damian Lillard was down to just Lillard. Aldridge was the main loss but far from the only one. Wesley Matthews also followed Aldridge out the door and signed with the Dallas Mavericks. Robin Lopez signed with the New York Knicks. Portland also made a trade shipping out Nicolas Batum to the Charlotte Hornets and all the sudden Lillard became the only remaining starter left in Portland next season. Losing Aldridge forced the team to revamp their entire roster and start from scratch. The roster will be drastically different next year and they will certainly fall from the ranks of western conference contenders. That is not to say that all things are bad in Portland. They did a pretty good job of responding quickly and gathering all the assets they could.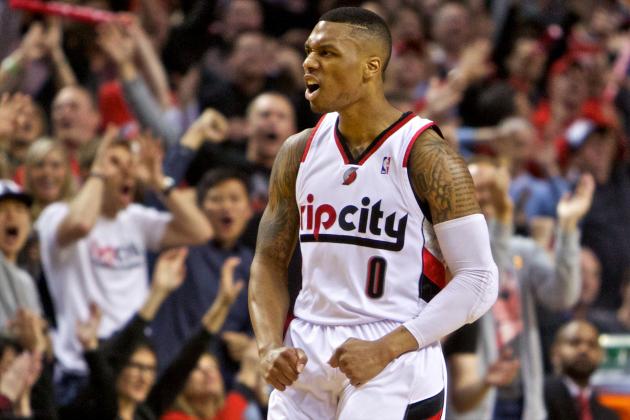 Graphic via bleacher report
One big move Portland made was making sure Damian Lillard would not follow in LaMarcus Aldridge's footsteps and leave the Blazers in the dust. The team quickly reached a contract extension with Lillard, keeping him in Portland for at least the next five seasons. With that signing, Lillard has become the new building block the team will attempt to build around. After that they quickly compiled young big men who could potentially replace Aldridge once they develop. In the deal involving Nicolas Batum, the Blazers received forwards Gerald Henderson and Noah Vonleh. Vonleh was a top 10 pick just one year ago and showed promising flashes in the summer league. The Blazers also picked up Mason Plumlee and Ed Davis, giving them a trio of talented young big men. Now they must hope that one of these youngsters blossom into a force down low which would help ease the loss of Aldridge. Portland also signed small forwards Maurice Harkless and Al-Farouq Aminu to fill the voids of Batum and Matthews. The Blazers also added a few young pieces in the NBA draft. In the first round they selected the defensive wing Rondae Hollis-Jefferson and in the second round they selected shooter Pat Connaughton. Hollis-Jefferson is very talented but needs some work on his shot. Overall, Portland is now loaded with young talent and we will have to wait and see which players develop into solid NBA players. It is unprecedented to see a team go through so much changeover in one offseason and now the rebuild begins. It could be a long process and the Blazers earned a "D" grade for this past offseason. A drastic drop off is sure to transpire for the 2015-2016 season.
Graphic via wweek