Entering his fourth season as the head coach for the St. Louis Rams, Jeff Fisher is hoping to start showing some improvements from the bottom of the NFC West standings. With a record of 20-27-1 in three seasons, the hopes are that the Rams will have made the necessary moves to earn a playoff berth in the highly competitive division that includes the two-time NFC Champion Seattle Seahawks and the improving Arizona Cardinals.
Rookies drafted
After trading running back Zac Stacy to the New York Jets, the Rams spent their first round draft pick on Georgia's Todd Gurley who had 3,285 yards and 36 touchdowns in three seasons with the Bulldogs – he also had 615 receiving yards and touchdowns in that same time period. There is hope that Gurley will lead Fisher's run-first offensive gameplan in an effort to find some offensive consistency by controlling the game on the ground.
The only concern with Gurley is whether he will recover from ACL surgery in time to either start or at least split time with last year's rookie running back Tre Mason. But part of the running game is having a good offensive line, which is why St. Louis also drafted Wisconsin tackle Rob Havenstein – a six-foot-seven, 321-pound lineman who helped clear paths for Melvin Gordon to rush for 2,587 yards in 2014, Louisville tackle Jamon Brown, Iowa tackle Andrew Donnal and Cal State Fresno guard Cody Wichmann.
St. Louis also drafted Oregon State quarterback Sean Mannion, Missouri wide receiver Bud Sasser, Baylor inside linebacker Bryce Hager and Memphis defensive end Martin Ifedi.
New additions
In a very interesting trade, the Rams swapped starting quarterbacks with the Philadelphia Eagles, with Nick Foles coming to St. Louis in exchange for Sam Bradford. This move is expected to help the Rams with one of the team's biggest struggles – consistency at the quarterback position because of Sam Bradford's constant injuries that have affected his performance the past two seasons.
Last season, Foles had a down year due to injuries and only having 2,163 yards with 13 touchdowns and 10 interceptions. The Rams are hoping to see a repeat of his 2013 breakout season where he had 27 touchdowns against only two interceptions for the Eagles.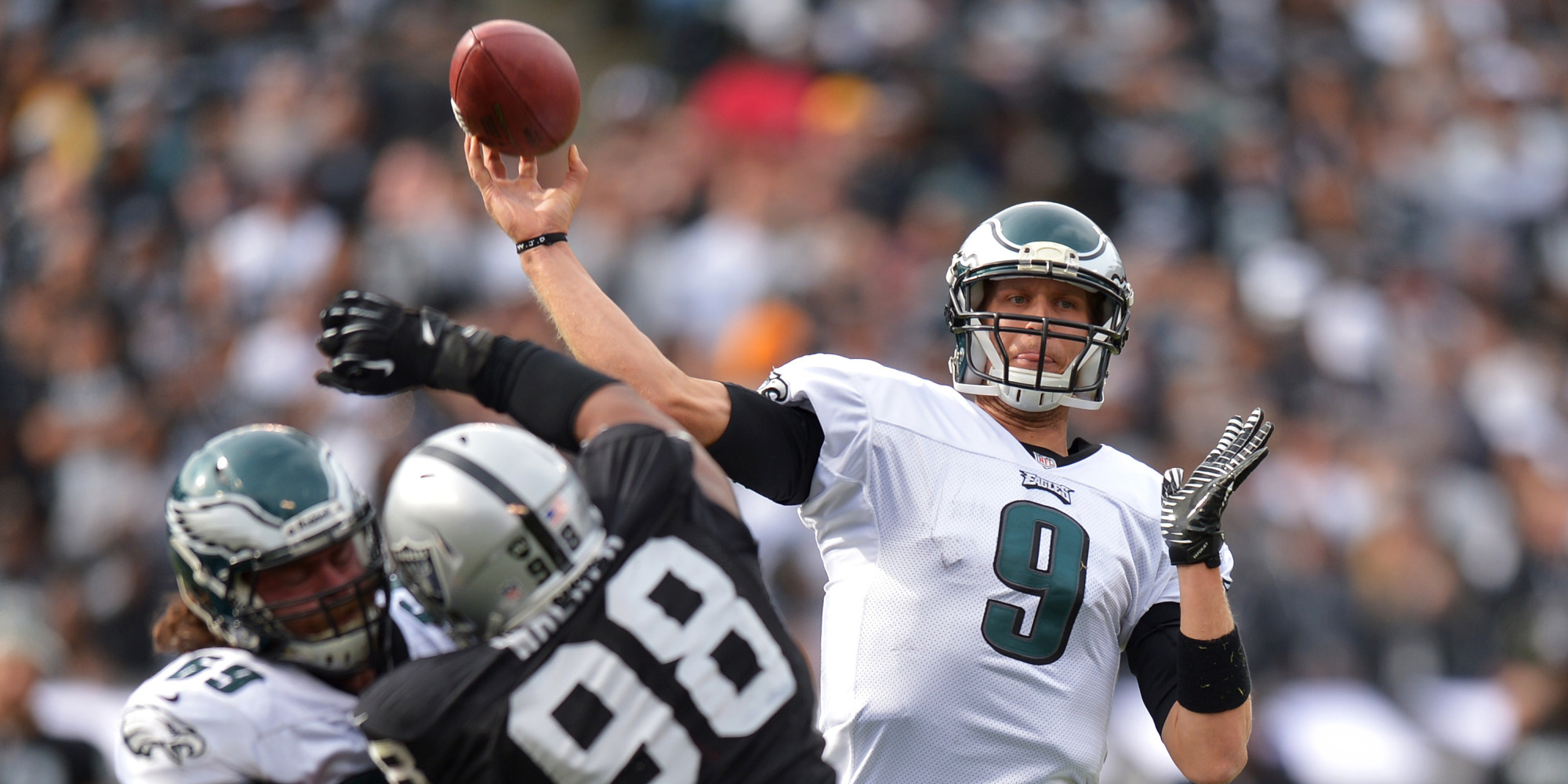 Graphic via huffingtonpost
On the defensive side of the ball, St. Louis was able to sign defensive tackle Nick Fairley for a one-year deal for $5 million. It might be considered a decent steal of a player who has collected 13.5 sacks and four forced fumbles in his first four seasons with the Detroit Lions – where he was part of a terrorizing defensive line with Ndamukong Suh (who also left for the Miami Dolphins).
Additional moves include trading fourth and sixth round draft picks to Tampa Bay for safety Mark Barron, two seventh-round selections for New England Patriots' receiver Greg Salas, linebacker Akeem Ayers and tight end Lance Kendricks.
Coaching changes
Unlike past tenures with the Tennessee Titans, Fisher has never needed to make big changes to his staff. But this year they brought in Frank Cignetti as the team's offensive coordinator – who spent the past three seasons as the Rams' quarterbacks coach. Cignetti's career prior to St. Louis included time as an offensive coordinator for several college football programs including Fresno State (2002-2005), North Carolina (2006), Carlifornia (2007), Pittsburgh (2009-2010) and Rutgers (2011).
St. Louis also promoted Rob Boras from being the tight ends coach up to the assistant head coach, but he will still be responsible for his tight end responsibilities. The Rams also hired former NFL quarterback Jeff Garcia as an offensive assistant and Chris Weinke as the quarterbacks coach.
Preseason games
In effort to prepare their new offensive and defensive stars, the Rams will have a nice warm up on August 14 when they visit the Oakland Raiders, followed by another road game against the Tennessee Titans on August 23. After that, the Rams will have back-to-back exhibitions at home against AFC teams Indianapolis Colts (August 29) and the Kansas City Chiefs (September 3) – both teams are considered potential playoff teams.
Graphic via hereandnow