The Utah Jazz
failed to reach the playoffs last season but are looked at as a possible team on the rise. They have a couple building blocks down low in Derrick Favors and Rudy Gobert. Gobert emerged last season as a breakout big man with a ton of talent. Gordon Hayward has developed into a nice wing scorer and they have the likes of Dante Exum, Trey Burke, and Alec Burks developing at the two guard positions. Utah is a young team that is continuing to grow and their goal this offseason was to continue to add talent to their young core.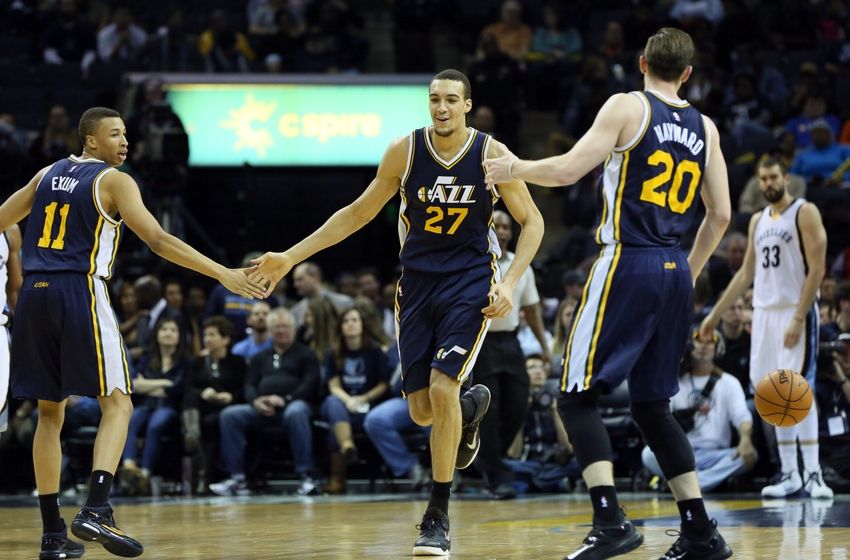 Graphic via saltcityhoops
With the 12th pick in the draft they selected forward Trey Lyles out of Kentucky. Lyles should provide some athleticism to the wing which Utah could use. The problem with this pick is that Lyles is too small to play power forward and has not shown a good enough touch from the outside to play small forward. He was a risky pick in the lottery but there is no doubting he has a lot of talent and has the chance to develop into a good player. In the second round they selected guard Olivier Hanlan from Boston College. Hanlan was a bigtime scorer on a bad team last year and could provide a scoring punch off the bench which Utah does need.
Shooting guard is their biggest position of need so this could prove to be a nice pickup. The Jazz also added Jack Cooley and Bryce Cotton to their roster after both played well in the summer league. Their only other free agent move was resigning bench player Joe Ingles. Overall, it has been a relatively uneventful offseason for the Jazz. Rumors have swirled about them looking to trade Trey Burke and/or Derrick Favors, but so far they have stood pat. Trading Burke would not be a horrible idea but holding onto to favors so far is a good thing. He is a very talented big man and despite questions about being able to play next to Gobert, the Jazz should hang on to him unless a great offer presents itself.
The lack of moves shows that Utah plans to go with their current roster in hopes that they continue to develop into a playoff contender. They do have a talented young core that has been heading in the right direction in the past few seasons but it may be hard for them to squeeze into playoff contention in the loaded western conference. Their uneventful offseason earns them an overall grade of a "C". The development of young players will prove to be their true test moving forward, starting in the upcoming 2015-2016 season.
Graphic via sltrib