The MLB's Tampa Bay Rays made a valiant effort to stay in race until they could get back some of their injured players. Unfortunately some of these players were better off on the D.L. Matt Moore has not been good since coming off the disabled list. He has been hit and hit hard, failing to go past the fifth inning in any start.
This past weekend, the Rays got a lift when their anemic offense rallied for three runs in the eighth on Friday night for a 3-1 win for Chris Archer. But they followed that up with a 5-1 loss on Saturday with Erasmo Ramirez, one of the few bright spots lately, getting bombed for four third inning runs on five hits. Chris Davis hit a grand slam for the 4-0 lead. Four runs against the Rays is a lock as they have not scored more than four runs in a game since July 8th.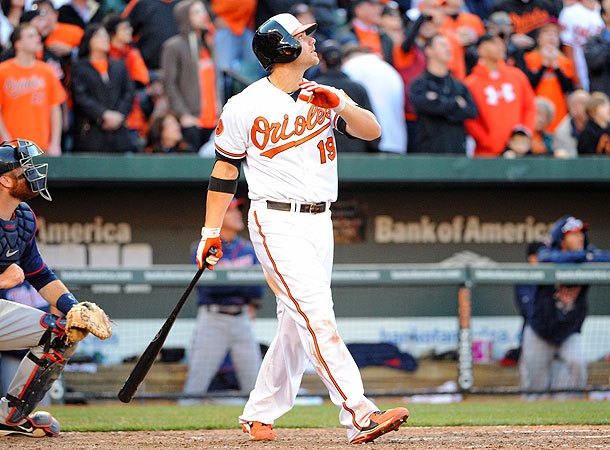 Graphic via topbet
Then came Moore's turn on Sunday. In his defense, for whatever reason Evan Longoria was not at third base and Kevin Kiermaier was not in center. This proved very costly in the first inning when Jake Elmore could not make a play to his left on a diving stop that allowed the first run to score with two outs and then two more scored on a play when Brandon Guyer was not able to catch a sinking liner after making a diving attempt.

Graphic via tampabay
Would Longoria have made the play at third? Probably. Would Kiermayer have made the one in left-center? Most likely. But make no mistake, both of those balls were smoked. Moore seems to be able to get nothing over the plate but his fastball, and at times misses badly with that pitch too.
Why were Longoria and Kiermayer not playing? Longoria was healthy enough to be the DH. He homered in the fourth to make it 5-1. Kiermaier was not in because the Orioles started a lefty and instead went with the right-handed Guyer.
The Rays had Chen on the ropes in the fifth when they loaded the bases for Steven Souza with one out. But Souza took a 3-2 fastball at the knees and Longoria then grounded out to end the threat.
The Orioles took over third place with the series win. It was the third time they have won a series at Tropicana Field this season. They have won two of three in all three trips to the Trop. They are now three games over .500 in St. Pete and four games under .500 everywhere else.
But the O's are still in no great shape either. They are only a half game up on the Rays so if it is time for Tampa Bay to throw in the towel, then it is time to also give up on the O's. Both are still in contention if we look at the Wild Card standings, but neither seems to be able to get on a decent roll.
The Rays were about 10 games over .500 30 games ago. Since then they have nosedived. Baltimore also sneaked their way up near the division lead about 20 game ago and since then they have free fallen as well. With the Yankees getting hot now, these teams appear to be done.
Graphic via zimbio