The Philadelphia Flyers earned the 12th seed in the eastern conference in the 2014 season. Philadelphia was competitive with a winning record, but did most of their winning at home and struggled to compete on the road. Their 84 points left them 14 short of a playoff spot and they will look to regroup in 2015. The Flyers schedule will make doing so difficult as two of their first four games are against the Stanley Cup finals representatives. Philadelphia opens the 2015 season against the Tampa Bay Lightning. Then they face the Florida Panthers twice, who figure to be improved and fighting for a playoff spot, before they face the Chicago Blackhawks for their first nationally televised game of the season. Philadelphia ends the first month of the season by starting a difficult five game road trip. This will be an early season test to see if they can gain some confidence in games outside of Philadelphia. The Flyers schedule presents another challenging five game road trip in February that features games against the Rangers and the Canadiens. The good news of this road trip is that it finally presents the first long home stand of the Flyers season. The Philadelphia schedule is one of the few that does not have many long home stands and is that one thing the Flyers could gripe about. Following the second long road trip is their six game home stand that ends with a tough game against the Lightning.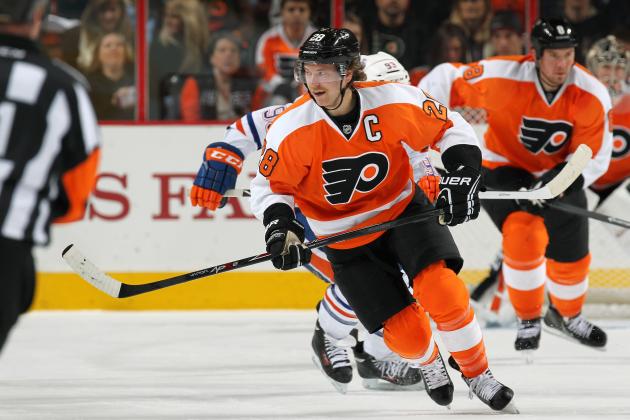 Graphic via bleacherreport
If the Flyers do happen to be fighting for a playoff spot in the 2015-2016 season, they will certainly have to earn their position late in the season. They finish the season with 6 of their last 7 games coming against playoff teams from a year ago. Most of the teams are from the eastern conference and could be fighting for a playoff spot as well. It is unlikely that Philadelphia will be in the playoff hunt at this point but it is possible with them. The main reason it seems unlikely is their schedule. Overall, the Philadelphia Flyers schedule is a difficult one to build momentum with due to the lack of multiple home games in a row. Other than their one very long home stand they go back and forth from the road and home. It will be important for them to play much better on the road and if they do so they will have a shot at the playoffs, as they played playoffs caliber hockey in Philadelphia last season. The Flyers are one of those teams teetering on the edge of fighting for the playoffs or dropping towards the bottom of the conference. It will be interesting to see what direction they head next year.
Graphic via lehighvalleylive