After barely missing out on postseason action in each of the past two seasons, the Phoenix Suns are poised to take the next step for their group of young guys and bring postseason action to the desert. By re-signing bright young guard Brandon Knight to a long-term deal, the Suns' backcourt duo looking promising when you add Eric Bledsoe into the mix. Rookie Devin Booker and other prospects like T.J. Warren and Archie Goodwin give reason for optimism among fans in Phoenix. At the same time, young rim protector Alex Len has steadily improved every year since he came out of Maryland and will benefit greatly under the tutelage of free-agent acquisition Tyson Chandler, who fits their up-tempo system to a tee.
One troubled issue that has recently rumbled outside of the Suns' locker room is the Markieff Morris issue, who is said to be in fumes at the Suns' management. To start, he didn't like that they traded his twin, Marcus, as they will be separated from each other for the first time their entire lives. He reportedly demanded a traded that was not given, and now has said he will enter training camp with the lowest amount of team participation possible until the issue is resolved. According to John Gambadoro of 98.7 Arizona Sports, Kieff is going to give one-word answers to teammates and coaching staff, while he plans to completely shut off contact with upper management. This issue is one that Phoenix will need to get resolved sooner rather than later, as it may have a troubling effect on team chemistry, something the Suns are going to need if they want to eventually clinch a playoff berth.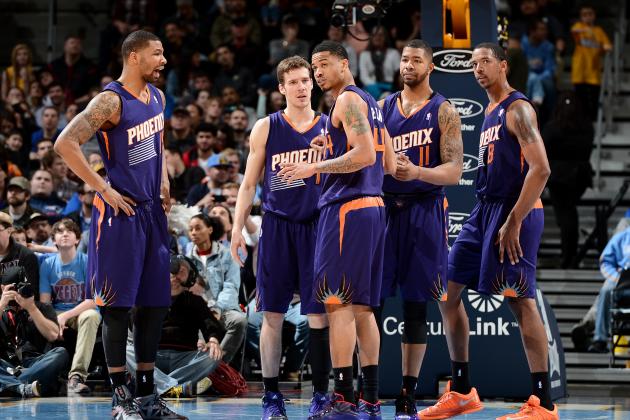 Graphic via bleacherreport
The Suns are set to tip-off on October 28th against the Dallas Mavericks, the former team of Tyson Chandler. Chandler has been known as a great veteran locker room presence, something the Suns young roster should take full advantage of. Emotions will be high with Chandler in a new uniform welcoming his old team into his new home. He was the defensive anchor behind the Mavs' 2011 playoff run that ended with a championship. Another thing to watch out for on opening night is the improvement of Brandon Knight. Knight, just 23 years old when the season starts, is coming off a big contract extension and it will be seen if he can live up to his new lofty expectations. In a Suns uniform he has averaged 13.4 points and 4.5 assists, although injuries have held him back.
The Suns' new and improved roster will have a crack at a playoff berth, but it will ultimately come down to a number of factors. The biggest factor is how well the backcourt rotation of Brandon Knight and Eric Bledsoe can mesh together. The front office is banking on these two as their dynamic duo of the future and for good reason. The addition of Tyson Chandler will surely help them on the defensive end while the battle-tested center will also be providing true leadership qualities on and off the court.
Graphic via rantsports