The
Pittsburgh Penguins
, coming off of a first round playoff exit, look to build towards a deeper run in 2015. Pittsburgh lost in five games to the
New York Rangers
in the opening round, showing that they still have a ways to go in order to become a true championship contender. They snuck into the playoffs as the eighth and final playoff seed in the
Eastern Conference
. Pittsburgh starts out the 2015 season with a relatively favorable schedule. Their first big nationally televised game comes October 28
th
. 9 games into the season against the Washington Capitals. The matchup of
Alexander Ovechkin
and
Sidney Crosby
is always a treat for NHL fans. Pittsburgh and Washington were in similar places last year. The Capitals finished the year just three points ahead of Pittsburgh and lost in the second round of the playoffs. Like always, slowing down Ovechkin will be key when facing Washington.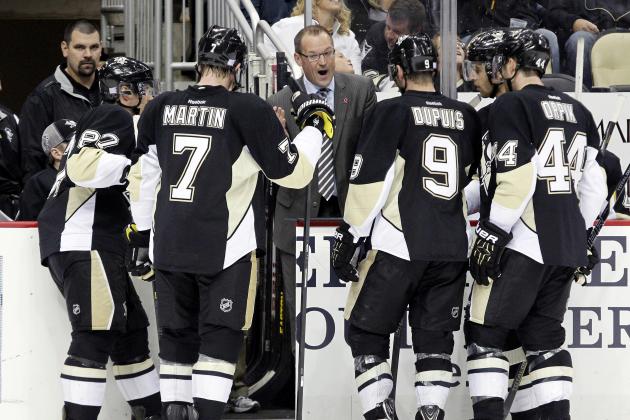 Graphic via 

bleacherreport
The Penguins also have to face the second seed in the eastern conference last season Montreal, for the second time on November 11
th
. This game will also be nationally televised and the Penguins will have the luxury of home-ice just like in the first meeting between these two. One advantage of the Pittsburgh Penguins schedule is that they do not have to face the two representatives of last year's Stanley Cup Final through the first three months of the season. It is not until January 5
th
when Pittsburgh sees the
Chicago Blackhawks
for the first time and then they play Tampa Bay just ten days later, in what is one of the more difficult stretches of their schedule. They also avoid the New York Rangers, who knocked them out of the playoffs, until February 10
th
. Overall, the first half of the Pittsburgh Penguins schedule is favorable, but it does get more difficult down the stretch. After their matchup with New York in February, they meet up with them for three more contests in the month of March alone.
The Pittsburgh Penguins schedule wraps up on April 9
th
, with an afternoon game against the Philadelphia Flyers. This game could have playoff implications as points are at a premium even coming down to the last day of the season. Pittsburgh has a tough ending to the season with 4 of the last 5 games on the road, including the season finale. Overall the Penguins schedule sets up nicely for them to get into a good rhythm early in the season before they delve into the rockier playoff push that the second half presents. They will have a great chance to put themselves back in playoff contention and hopefully can secure a good first half record and then attempt to hold ground against top competition later on.
Graphic via 

penslabyrinth