The Houston Texans
are a talented team that has yet to reach its full potential. They have a dynamic defense and an offense that often performs at a high level. What they lack, unfortunately, for the team and its fans, is significant and frequent playoff success.
It must be frustrating for the team and for those who spend big bucks to watch it play. But the window has not yet closed on this potentially formidable squad. There is still time for it to produce great results.
And it can accomplish that in one of the nicer parks in all of professional football. It is called
NRG Stadium
.  But, when the gates opened for the first time on August 24, 2002, this handsome football venue was known as Reliant Stadium.
Sponsors change and when that happens, stadium names change, as well. But for local fans the name of the ballpark is far less important than the ability of the players that perform in it.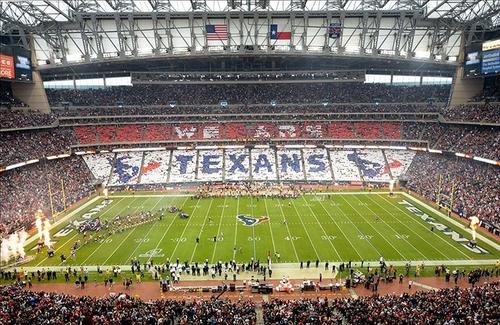 Graphic via 

ase
When this park opened twelve years ago, the Texans were still building a team through the NFL College Draft. They've had a solid roster for several years now and this may be the season it all comes together for this club.
If that happens, they'll probably get at least one playoff home game and will then have the chance to fill NRG Stadium to capacity. A full house, with every seat taken, means that 71,054 fans will walk through the turnstiles.
It is interesting to note that
NFL
Football is not all that is played at NRG Stadium. The
Houston Livestock Show and Rodeo
appears at this park every year, generally before large crowds. College football draws fans to this stadium, too. That may be because the Texas Bowl selects two competitive teams, one of which is usually from an in-state university.
NRG Stadium, when it was still known as Reliant Stadium, hosted
Super Bowl XXXVIII
in 2004. It will host
Super Bowl
LI in 2017.
The most crowd-pleasing and best attended event at this southwestern ballpark is Wrestle Mania XX5. The sports entertainment extravaganza drew a huge crowd as it does wherever it performs.
But, while Wrestle Mania drew the most fans for a sports-related event, record attendance for NRG Stadium goes to George Strait. His concert on March 17, 2013 drew an almost too-difficult-to-imagine 80,020 ticket buyers. That's a lot of tickets.
While the George Strait concert set an attendance record, other artists have also done well. The Rolling Stones were the first musical group to perform in what was at the time a new stadium. The crowd that watched them was loud and enthusiastic.
When concerts, football and rodeo are not scheduled, one other event fills the stadium. It is called Monster Jam. It involves oversized vehicles performing amazing feats and the crowds that come to watch this sport never fail to roar their way from beginning to end of the long and exciting show.
NRG Stadium, now twelve years old, deserves a champion. And this year, the football stadium may get one.
Graphic via 

reliantpark