AT&T Park
is the home of the
San Francisco Giants
and a ballpark that may be the most attractive venue in all of Major League baseball.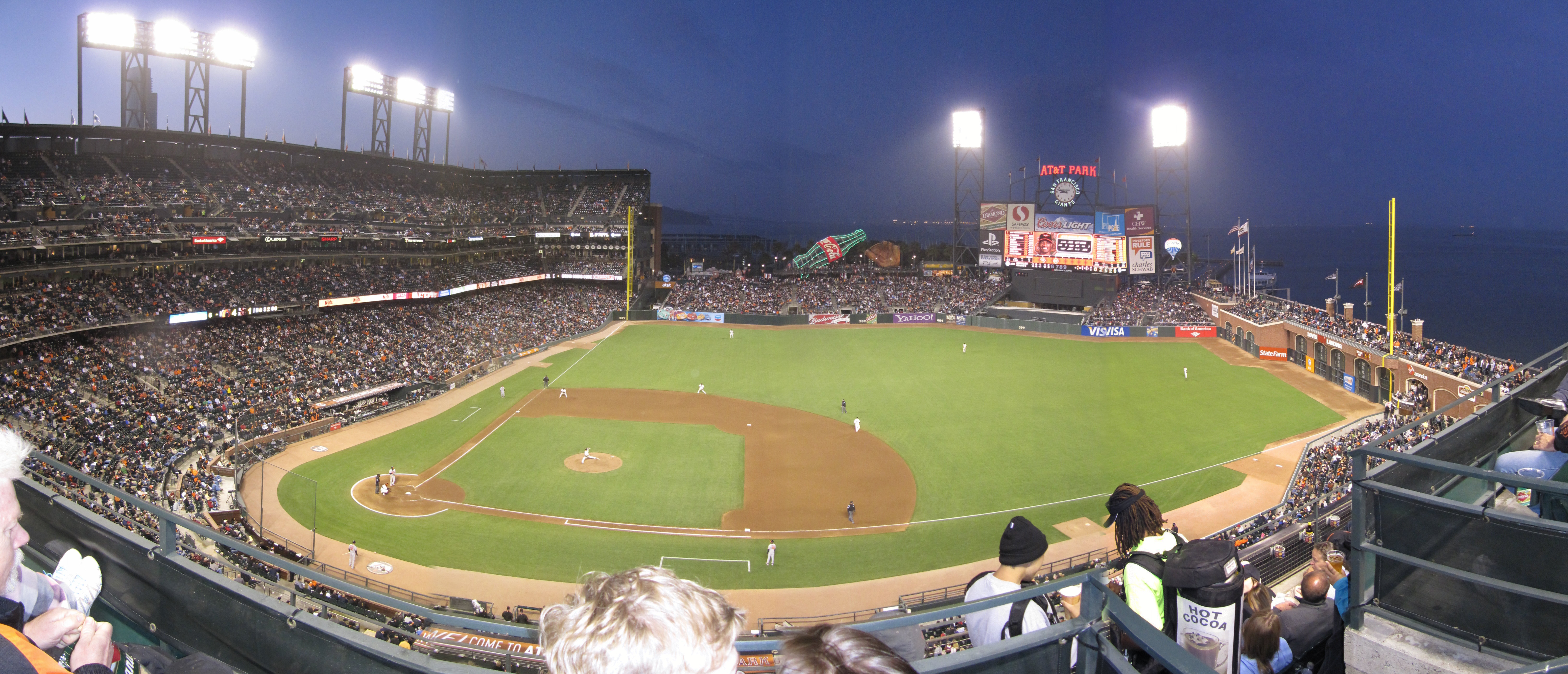 Graphic via cookandsonbats
This stadium, which opened April 11, 2000 and was known by such names as SBC Park before it became AT&T Park, comfortably seats 42,915 people and has standing room for up to fifteen hundred more people.
Interestingly, the largest crowd ever in AT&T Park was 44,026. The home team did battle with the visiting Atlanta Braves on an autumn day in 2010 during the National League Division Series (NLDS).
This handsome ballpark has features that are notable for their scenic beauty. The stadium is located just off San Francisco Bay and, in fact, the right field stands sit just above an area of the Bay known as McCovey Cove. Named after a famous Giants slugger from the 1960s, Willie McCovey, the "Cove" is really a section of the Bay that rests just beyond the right field stands.
Many home runs have cleared the stands and fallen into McCovey Cove where fans in small boats rush to retrieve the ball from its watery resting place.
There are other features that make a trip to AT&T Park worthwhile. The best one is the view of the Bay from inside the park. It's magnificent and, for some people, worth the cost of admission.
Of course, views and coves are not all that has made this stadium special for its fans. AT&T Park has been home to many notable events. Barry Bonds hit his 715th 4-bagger on May 28, 2006.
That hit, in front of thousands of adoring fans, enabled Bonds to eclipse the career home run record of the immortal Babe Ruth.
Bonds hit another home run that made him the sport's all time number one home run hitter. On August 7, 2007, he slugged home run number seven hundred sixty-five, a hit that moved him ahead of another immortal, Hank Aaron.
Perhaps even more notable and worthy of mention is the fact that the Giants beat the Texas Rangers in a World Series home game in 2010. That was their first World Series win since 1958, the year the New York Giants left Manhattan for San Francisco.
The team by the bay has been one of baseball's best squads over the past several years and there have been many more World Series home games for the fans to enjoy.
World Series wins have been great, but the event that was probably most exciting for the team's fans was the Perfect Game tossed by starter Matt Cain against the Houston Astros in 2010.
Perfect, no-hit games occur less frequently than World Series appearances. That is especially true for the San Francisco Giants. They have played in three World Series in just the past five years.
Graphic via ballparksofbaseball