Prior to the start of the 2015 Major League Baseball season, analysts predicted that the Atlanta Braves, a team in transition, would not be a factor in the Eastern Division pennant race and would not compete for a Wild Card, as well.
According to analysts, the Braves were rebuilding with young players, many of whom would be using the current season to acclimate themselves to performing at the very highest level in the sport. Simply stated, this group of athletes was not going to be ready to succeed.
Ninety-five games into the season that belief about the Braves is only partly true. The team has a won-loss record of 45-50 going into this weekend's big 3-game series against the St. Louis Cardinals, a squad that has a won-loss record of 59-34, the very best in the league.
While it's true that Atlanta sports a losing record, their overall performance on the field has been better than what was expected of them. Moreover, this team is only six games behind the Chicago Cubs, the team that currently leads in the race for the second Wild Card.
What that means is that the team from Georgia still has a chance to make it to the postseason. The odds are not in their favor. They would have to play great over the remaining seventy or so games and leapfrog over several teams to qualify for the playoffs as the second Wild Card. And that is not easy to accomplish.
Nevertheless, the Braves are a "never-say-die" group and are primed to win their way into the playoffs. The push to October baseball begins this weekend in St. Louis. Atlanta must take two of three games from a very good Cardinals team in order to keep their playoff hopes viable and realistic.
They have the pitching to get the job done with ace Julio Teheran and other quality starters like Alex Wood and Shelby Miller. Position players such as shortstop Andrelton Simmons, slugging first baseman Freddie Freeman and outfielders Jonny Gomes and Cameron Maybin must "rise to the occasion" and play at a very high level.

Graphic via breakingnews
They can get the job done, but it won't be easy. St. Louis is tough and hard to beat, especially when the games are played at Busch Stadium.
Although St. Louis lost its ace, Adam Wainwright, in April, young replacements, pitchers and position players, have stepped right up when called upon and the transition has been effortless The squad from the city known as "the gateway to the west" just keep winning.
Top young pitchers, including Tim Cooney and Lance Lynn will team with veteran John Lackey to make things difficult for the visitors from the south. Position players like catcher Yadier Molina, third baseman Matt Carpenter and outfielders Matt Holliday and Jason Heyward are all clutch performers and winning athletes.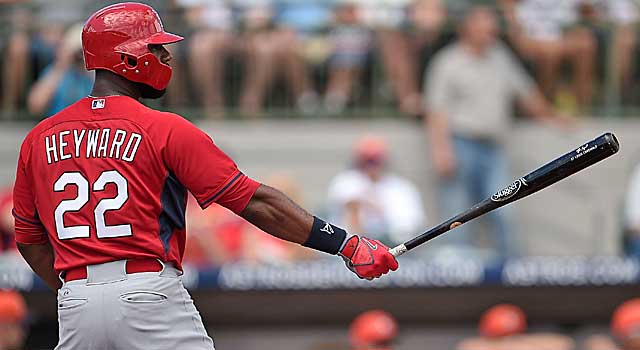 Graphic via cbssports
They form a human roadblock and are determined to stop Atlanta in its tracks. Clearly, the Braves face a tough task. Their ability to compete successfully against the Cardinals will determine whether they are a serious contender for postseason or just a team preparing to "play out the string."
Graphic via espn